The Olympics only come around every 4 years and there are some of us who like the thrill and the majesty of the whole Olympic experience. Of course there are Sports Fans that also love all the events and love to root for the "Good Old USA". So this year, I am going to throw a party on the opening day of the Olympics. The summer Olympics this year will be held in Beijing, China so I thought this would be a great time to pull out some of my favorite Chinese recipes.
The menu I chose will feed between 2-4 couples. What is great about this menu is that if I choose not to cook, I can order all the food from my local Chinese take out and it will be less work for me. An alternate menu would be to have international foods. You could easily make it a potluck by assigning each person a country, and have them bring some food from that country.
Since I have a large family room with couches I figured I would make this a buffet so that my guests can sit comfortable in front of my TV set. I plan on decorating with all the different flags from the different countries that will be at the Olympics. This was easily accomplished by going to this website, http://www.anbg.gov.au/flags/nation-flags.html and saving the flag graphics to my computer.
I will then print them out on 8 1/2 by 11 inch paper and make banners to go across my room by folding over the top edge of the paper and stapling it to a piece of yarn. I am going to make 4 banners to go across to the center of my room and then I will tie balloons in the center.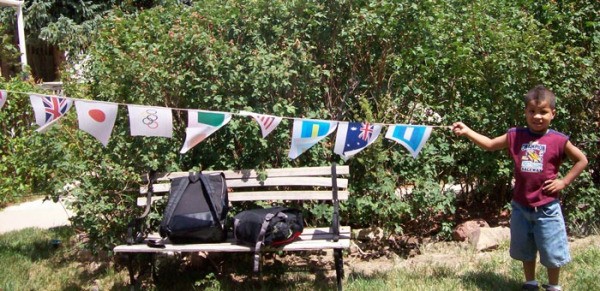 My centerpiece will be the same flags printed out smaller and stapled to balloon sticks and put into a vase with white carnations. I went online and looked up the mascots of the Beijing Olympics and found that they have 5 mascots so I will use graphics of these little guys to decorate my food table. It is as simple as paper-dolls when we were kids. Glue the paper to the cardboard and cut out leaving enough cardboard on the bottom of each to fold back to make a stand. Now you can tape your stand down to the table so they will not tip over. This is where I got my graphics from: http://en.beijing2008.cn/spirit/beijing2008/graphic/n214068254.shtml
I plan on having at least one game to play so I thought that an Olympics Trivia game would be fun. I found this website that had a lot of Olympic facts that could be turned into a Olympics Trivia Game: http://www.topendsports.com/events/summer/trivia.htm
I went to the dollar store and found a black and white panda bear which I will decorate in red, white and blue for the winner's prize.
The Menu
Fried Rice
Spring Rolls
Chop Suey
Boiled Shrimp with sweet and sour dipping sauce
Almond Ice Cream
Plum Wine
Here are some recipes to get you started:
Chop Suey
This recipe was my grandmother's who got it from her Aunt who was a missionary in China
Ingredients
1 pound beef, cut in cubes
1/2 pound pork, cut in cubes
1 can bean sprouts
2 cups diced celery
1/2 cup of water
1/2 cup of onions diced
1 pkg of Chinese pea pods (Snow peas)
1 can of water chestnuts, cut fine
1 can mushrooms with juice
2 Tbsp. flour
2 Tbsp. soy sauce
Chow mien noodles
Directions
Brown the meat in a little butter and turn down the heat and add the rest of the ingredients minus the flour and soy sauce. Simmer 1-1/2 hours. Thicken with the flour and soy sauce mixed together. Serve over Fried rice and garnish with chow mien noodles.
Spring Rolls
This recipe was my best friend Cheryl Ann's, I think she got it from her sister in law but anyway they are mighty good. All the ingredients can be found at your local grocery store.
Ingredients
1 package egg roll wrappers
6 mushrooms cut in thin strips
2/3 pound ground chicken or turkey
1 small can water chestnuts chopped
2/3 pound of shrimp shelled and minced
1 pound of bean sprouts
1/2 cup of bamboo shoots shredded
1/3 tsp. garlic salt
1/2 tsp. sugar
1/3 tsp. pepper
Directions
In small pan combine ingredients and saute until soft. Take a small spoon and fill and roll each egg roll. Fry in hot oil until browned.
Fried Rice
I buy the seasoning packet from the grocery store and follow the directions.
To decorate the dessert of almond ice cream I will either have sparklers that I stick in and light at the last second or I am going to use colored light sticks.
I hope this gives you all a great start on a party to celebrate the Olympics!
Editor's Note: The Beijing Summer Olympics will run from August 8 - 24, 2008. For more information, you can visit the official website here: