Being frugal has always been part of my life. My Mom had a chronic illness and had to stay at home. Our family lived on what my father made at a non-union factory job. We definitely used it up, wore it out or did without.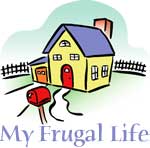 When I got married I continued to be frugal. I worked nights part time so I could be home with the kids. Clothes were second hand, homemade or altered to fit. Stretching dollars became a game. The kids learned early that they could have expensive clothes, toys, etc. if their father worked hours away from our country home. They chose to have him around.
Now that the recession has hit we are making it. We don't have to give up what we never needed in the first place. Our kids are grown. The house is paid off. We don't have a fancy TV or expensive cars. The closets are not filled with designer clothes. We can sleep at night.
We continue to be frugal so the recession is nothing that shocking to our budget. I feel for those who had to keep up with the Joneses and now are losing the roofs over their heads. It's a hard lesson learned.
Pat from PA
Do you have a frugal story to share with the ThriftyFun community? Submit your essay here: http://www.thriftyfun.com/post_myfrugallife.ldml