By Harry (Guest Post)
March 2, 2009
0

found this helpful
It's not a good idea to paint concrete floors because concrete is porous and moisture coming through the concrete will peel the paint.
March 2, 2009
0

found this helpful
I've painted concrete floors (interior and exterior) but have no photos ... The only difference between stained and painted is the paint looks shiny and it dulls to a more natural look over time ... I personally like the look of paint rather than stain ... I used exterior porch paint even on an interior floor because it's durable ...
March 2, 2009
0

found this helpful
This is a project we did a few years ago, our patio floor was ugly cement so had flagstone floor done, what a big improvement that was we love it. Phyllis, Roseburg, Oregon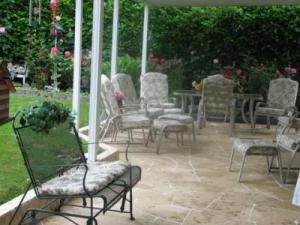 March 3, 2009
0

found this helpful
All the floors in our house are concrete. We painted them all different colors. In my husband's den, we masked off shapes with 1 inch masking tape, in flagstone like shapes, painted them random colors, then removed the tape and painted the 1 inch strips with black. The other rooms all are like faux marble. We did this by painting them, and then using a product from Hobby Lobby called Web Spray.
Unfortunately, pictures of these floors are hard to take. They don't begin to do them justice. We have people visit us often "just to see how we have done our floors. I am adding a couple pictures here, but they look much better "in person". This is the floor in the den.And I will add another post so that you can see the kitchen and living room floors where they meet.
Harlean from Arkansas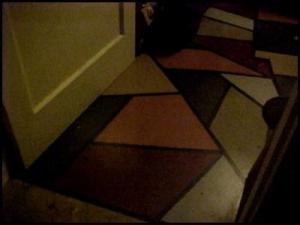 March 3, 2009
0

found this helpful
This is a picture of the living room and kitchen floors where they meet. I forgot to mention in the other post that we rolled the paint on before we added the webspray that gives it a marble appearance, and then we sealed it with clear acrylic, and when I mop it. (I always just damp mop it, rather than flooding the floor.) I use Future, a clear acrylic found where you buy floor wax. These floors have stood up well for over 10 years now.
Harlean from Arkansas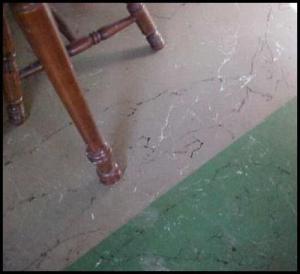 March 4, 2009
0

found this helpful
No pictures, but my Grandparents painted their concrete floor with game board patterns for their grandchildren; checkerboards, shuffleboard, hopscotch, and my favorite snakes and ladders. They were all very large size. We used dollar store plastic dinner plates and paper plates (hand decorated, of course) as playing pieces. Kept us busy for hours; decorating plates, and playing the games.