May 14, 2009
0

found this helpful
So, in your opinion, what should we feed our dogs? I have been researching the "raw diet" concept. It sounds right, but I honestly have no idea. Right now mine get IAMS.
May 14, 2009
0

found this helpful
I also feed my dogs mostly Iams, but I am a little puzzled by not feeding them mushrooms. Do the experts mean mushroom that we can consume, or are they refering to what I call "toadstools," that are poisonous, and nobody can eat?
May 15, 2009
0

found this helpful
Oh, and I read that only COOKED bones are bad for dogs. Raw bones of most any kind are fine because they are natural for a dog to eat, even chicken.
IDK about mushrooms. I would stick with not giving them any kind.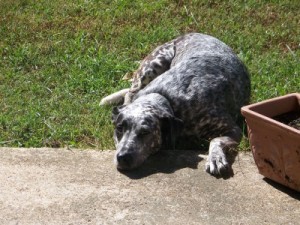 May 15, 2009
0

found this helpful
My sister-in-law cooks any type of bones in the pressure cooker until they are almost pulverized and gives them to her dog. I don't know if bones are bad for dogs or if it is just the fact they are hard and can splinter.
May 18, 2009
0

found this helpful
The picture in this article is my girl, Honey! I have heard good things about the Costco Kirkland Brand Dog Food. I get the Lamb/Rice one. It is a much better deal than anything else I have found and the nutritional data appears to be comparable to expensive brands. I don't give her table scraps but sometimes some cheese or hotdogs.
May 26, 2009
1

found this helpful
Do not feed your dog Xylitol either. It is a sugar substitute most commonly found in sugar free candy & gum. It is toxic to dogs! Just 3 grams or about 10 - 12 sticks of gum containing Xylitol can kill a 65 pound dog! It's even worse for small dogs. It only takes 2 or 3 sticks to kill them!
May 26, 2009
1

found this helpful
Also; Avocado - the substance Persin can cause vomiting, diarrhea and sometimes heart congestion.
Raw or undercooked meat - While there is controversy surrounding the role of raw meat in a dog's diet, studies have shown that raw meat has a higher likelihood of harboring harmful bacteria than cooked or prepared dog food.
Salmon and trout frequently have a parasite that cooking does not kill. It is fine for humans but can harm dogs.
Wild Mushrooms - Some mushrooms , for example, can produce abdominal pain, liver and kidney damage and anemia. So be aware of wild mushrooms when you are out walking your dog in wooded areas.
Also, do not feed your dog dry dog food that contains corn. Read those ingredients.
May 31, 2009
0

found this helpful
With the bones the danger they can splinter and cut the mouth, throat, stomach, and wont feed good coming out the other end. The marrow inside is also very high in fat, and if given on a regular basis can cause obesity in dogs.
May 31, 2009
0

found this helpful
Hello, This link is worth taking a look at as well! Some common garden and household plants are also poisonous to your pet. www.dogpack.com/.../poisonplants.htm
Great posts here!
P.S. - Picture is of my daughter, her boyfriend and our Bearded Collie Mix, Grant!
Regards, ~Lori~