October 29, 2009
0

found this helpful
The American Eskimo is a small-to-medium-sized breed that is known for its stark white to cream-colored coat. It looks a great deal like a small Samoyed, but comes in three different sizes. The toy, miniature and standard American Eskimo are all known for having a wedge-shaped head with an equally proportioned muzzle and skull. They have triangular ears that stand erect and a beautifully full tail that curls up over their backs in regal fashion. Their jaws are generally quite strong with close fitting teeth. They are known for having a scissors or pincer bite.
Although the American Eskimo sometimes has blue eyes, this is considered a negative trait in the show world. Blue-eyed Eskies are subject to health problems, such as blindness. Inasmuch, brown eyes are considered the mark of good breeding and good health.
The American Eskimo is known for being a very good companion dog. It is beloved for its intelligence, alertness and spunk. The breed is considered very active and quite loving. They are compact, but built with balance and agility. They are considered quite spirited, but are thought to be very good all-around pets for apartments as well as homes as long as they are properly exercised.
The American Eskimo is believed to have descended from the German Spitz. The name of the breed is thought to have been changed as a result of anti-German sentiment. The breed itself gained much notoriety during the 1930s and 1940s as performance animals in circuses. They are quite adept at learning and mastering tricks, such as walking on a tightrope, which makes them wonderful performers. Although they can and do perform tricks well, this breed is not known for being overly motivated. Training of an American Eskimo needs to begin early and must be delivered with patience.
With its compact size, intelligence and loyalty, the American Eskimo is considered an ideal pet and even a guard dog by many. Its natural agility and alterness combine to make this a very good household breed. Training of an American Eskimo should begin early. They tend to excel in agility training, but they are not overly inclined to perform in all cases. Proper training methods are a must to overcome this.good luck.

(Guest)
Gold Post Medal for All Time! 846 Posts
October 31, 2009
0

found this helpful
Please consider a dog who 'needs' a home from a shelter instead of seeking a particular breed or mix of breeds :-( There are lots of unwanted mixed breed dogs there that might not have much time left to be adopted before being put to sleep, especially the older ones, and I'll venture to bet that there's a similar breed of what you're hoping for personality wise. The best pet friends usually are those who are rescued IMHO and experience.

vicki hood
Bronze Feedback Medal for All Time! 102 Feedbacks
October 31, 2009
0

found this helpful
Please do a rescue. It is so rewarding to know you have saved a life. Many shelters have an 85% kill rate. Not fair to buy from a breeder when there are so many that desperately need homes. Only get a dog that will be part of your family. No chained dog outside that will suffer with only more lonliness. Rewards are many. More love in your life than you can imagine.

vicki hood
Bronze Feedback Medal for All Time! 102 Feedbacks
October 31, 2009
0

found this helpful
Muttmom again. Everyone out there; consider becoming a foster parent for shelter dogs. Check with your shelter. You will have to be approved and then the rewards abound. You watch and help a starved or abused or needy animal blossom into a wonderful, loving, grateful companion.

November 1, 2009
0

found this helpful
I agree, try to get an animal from a shelter! Also there are many groups who will only rescue a certain breed. We had a Husky/Malamute who was a beautiful dog. She was very protective of our family, and needed a lot of space to exercise. She was also a bit stubborn, and love to dig up our yard. You mention you are in Chicago. Will you be able to exercise and train your dog properly? Do you have a big fenced in yard? These dogs are a lot of work.
Maybe the best thing would be to speak to a local shelter and have them take down your info, like do you have kids, a yard, lots of time etc. These people should be able to match you with the proper pet. Good luck to you!

November 1, 2009
0

found this helpful
Yes, yes, yes! We have an American Eskimo/White German Shepherd mix and she is the very best dog. She is beautiful, intelligent, sweet, happy, fun, strong, obedient and a wonderful companion. She is 3 years old and still has a lot of energy. She loves to run and play. She believes she is an equal member of the family and wants to be with her people when they are home. You do need to establish who is the boss or she will think she is. She only needs to be told sternly once and she will remember what not to do again. She wants to please you and thrives on your praise. She follows you around in anticipation of what she will get to do with you. Our dog, Abby, loves to ride in the car and go for walks.
We got her from the Humane Society and she was actually in a foster home of an employee of theirs because she had run out of time and they didn't want to euthanize her. She could only stay in this home for a short time and we really got her days before she would not have been here anymore.
Abby is a good guard dog, she is constantly on the alert for anything that might harm her family. She seems to have a natural inate ability to know friendly people. She has established our large back yard as her kingdom and likes to sit or lie on our deck to survey it and make sure everything is alright.
She has doggy friends in yards all around us and watches for when they are outside so that she can have a "playdate". They run up and down the fences and happily play together.
We have 2 cats and she gets along well with them. In fact, they seem to keep her in line. She has a healthy respect for them. Although, the shepherd in her kicks in sometimes and she will try to herd them. It is quite comical to watch as the cats remind her they are "above" being herded. We've also seen her try to herd her family if she thinks we are going to go somewhere and we aren't moving fast enough to suit her.
I have a disability and sometimes am unsteady on my feet. She seems to know when I need to be watched and will walk along side of me to try to keep me from falling. I guess that is part of her herding instinct.
I've enclosed a photo of our Abby. She just has a short fan to her tail. Someone had apparently been mean to her and injured her tail, causing about 4 inches to have to be removed. We think that is why no one wanted her. I'm glad we got her.
I guess I've said enough. As you can see we think the world of our dog and would get another one like her in a hearbeat. I hope you choose to get a dog like her, you will be blessed.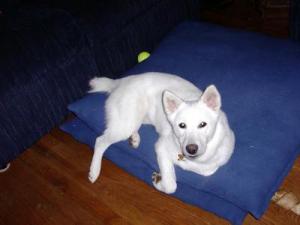 September 17, 2017
0

found this helpful
Could you please advise me as to Abby's size /weight, is she house broken, and how does she behave towards kids?
We lost our dog that looked a lot like Abby, & would be possibly be interested. Also please advise as to process of adoption.
Thanks,
Liane