These meals are intended to be a relatively simple and healthy weeknight meal for a family of four. We assume that these dinners are being made in a kitchen stocked with regular kitchen staples. We will not include prices of oil, sugar, flour, spices, etc. unless you need a 1/4 cup or more. Regional food prices may vary and can be reduced by smart shopping techniques.
Shopping List
1 package of Bratwurst sausage

$2.99
1 onion (use only 1/2 cup)
$.99
1 head garlic (use only 3-4 cloves)
$.50
1 small head of broccoli
$1.29
shredded cheese, Italian or Cheddar blend
$1.99
shells or macaroni pasta
$.99
Total Cost = $8.75
Staples
Butter
Milk
Flour
Olive or Canola Oil
Thyme, Salt and Pepper to taste
Directions
Start the water boiling for the pasta, adding a bit of oil and some salt. Cut up about 1 1/2 to 2 cups of broccoli flowerettes. Dice any stem parts and add them in as well. Set aside. Cut up precooked bratwurst into bite sized pieces (semicircles) and set aside. Dice about 1/4 onion (1/2 cup) and dice or press 3-4 cloves of garlic.

Melt about 2 Tbsp. of butter in a large saucepan on medium low heat. Add onion and garlic and cook until just softened (a few minutes). Add 1/4 cup of flour and brown until golden and well mixed. Add 1/2 cup milk and stir constantly, making a sauce. Add cheese and continue stirring. You may want to add more milk, a little at a time, to reach the proper consistency. Reduce heat to low and continue stirring occasionally. Add salt, pepper and thyme to taste. Add sausage into sauce to heat through, stirring often to avoid sticking.

When the water comes to a boil (which may happen while you are making the cheese sauce), add 1/2 package of pasta (8 oz.) and the broccoli. Cook pasta according to package directions (about 8 minutes) and drain. If the sauce seems too thick, add a little more milk and stir smooth. Mix pasta and sauce together in a big bowl or serve individually.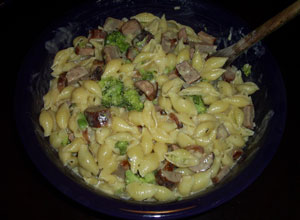 Tips:
If you are not using precooked bratwurst or sausage, you will need to cook it first. I would fry it in a little oil and use that same pan to make the sauce. This will intensify the sausage flavor.
If you don't like thyme, you could substitute oregano, chili powder or nutmeg to the sauce. Fresh herbs would also be wonderful.
Any kind of sausage or kielbasa would also work. Regular hot dogs are a kid favorite.
Grilled chicken would make a more elegant meal, maybe with pesto and tomatoes.
This meal is great to use up leftover cheese, veggies or sausages after a cookout. Just about any cheese will work here.
This meal is easy to make for a crowd by doubling or tripling the pasta and sauce. You can cut the meat and veggies finer to stretch the meal without costing a lot more.
If you would like a vegetarian meal instead, leave out the sausage. You could always add sauteed mushrooms or zucchini with the onions.