Myrna
Bronze Feedback Medal for All Time! 168 Feedbacks
January 19, 2010
0

found this helpful
A flat pry bar (not crowbar) will ease out embedded nails also a tool that about the size of a pair of pliers that is several tools in one. The end of the tool can raise a nail above surface for prying out and also pulling the top of nail with a needle nose pliers upward and then use your hammer to pull out the rest of the way.
Place a cloth under your tools to prevent indentions in wood.

Suntydt
Bronze Feedback Medal for All Time! 109 Feedbacks
January 19, 2010
0

found this helpful
Another trick is to utilize a small vise grip to grab the nail (if there is enough to grab on to) and then pry the nail out. Use a small block of would beside the vise grip and a thick neck screw driver (or pry bar) to lift under the edge of the vise grips. The wood will help you have leverage. If you don't have wood to use you can use the handle of the hammer.

January 19, 2010
0

found this helpful
I suggest to cover them with another window sill, would be faster & easy, good luck.

January 19, 2010
0

found this helpful
I would probably use a nail set to drive the nail a little deeper into the wood. Use a little wood putty to fill the hole, let it dry, smooth with a little sandpaper and paint over it! If the wood is stained or varnished instead of painted you'd need to find some matching color wood putty to fill the little holes.
You could probably use a regular nail if you did not have a nail set. Good Luck!

January 20, 2010
0

found this helpful
Folks! There's a new way, the new Nail Jack and Nail Hunter. They have a pliers like design and you can grab and pull nails at or below the surface. You can even tap these tool's heads to get below the surface, but usually don't need to.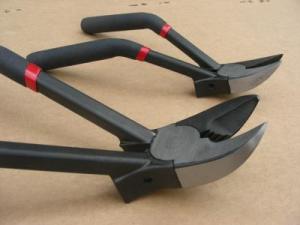 January 21, 2010
0

found this helpful
Thanks, everyone. My former owners here seem to have nails & just plain holes throughout all the woodwork. Seriously!

(Guest)
Gold Post Medal for All Time! 846 Posts
January 21, 2010
0

found this helpful
You can also use a flat head screw driver to help loosen. Just try to get the head of the screwdriver between the nail and the wood and gently hammer the butt of the screwdriver at an angle where the nail head is going out.
If the wood gets chewed up a bit all you need to do is use a bit of wood putty or caulk to smooth it out.