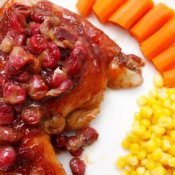 I love chicken cooked with fruit. This is a recipe I came up with years ago when I was craving a savory, tangy, pretty dish for dinner.
Ingredients:
2 chicken breasts, skin removed
3/4 cup fresh cranberries
1/2 cup orange juice
1 small onion, chopped
1/2 tsp. ginger
a dash of cinnamon
sugar to taste*
salt and pepper to taste
*You need a little to cut the sharpness of the cranberries, but can make this less sweet than if you used cranberry sauce. I don't add much sugar. The orange juice adds a little sweetening. Add a little, then taste. If it needs more when it is done, you can add it then.
Directions:
Saute the onions and chicken in a little olive oil. When the chicken is nicely browned, add the remaining ingredients. Turn chicken so that it is breast side down. Bring to a boil, then reduce to a nice simmer and cover. Stir often. Cook until the chicken is done and the sauce thickened a little. This is very good served over rice.
Cooking Time:
35 - 45 Minutes
By Free2B from North Royalton, OH