Here's an idea for bringing a splash of color to those bare spots in your yard and garden.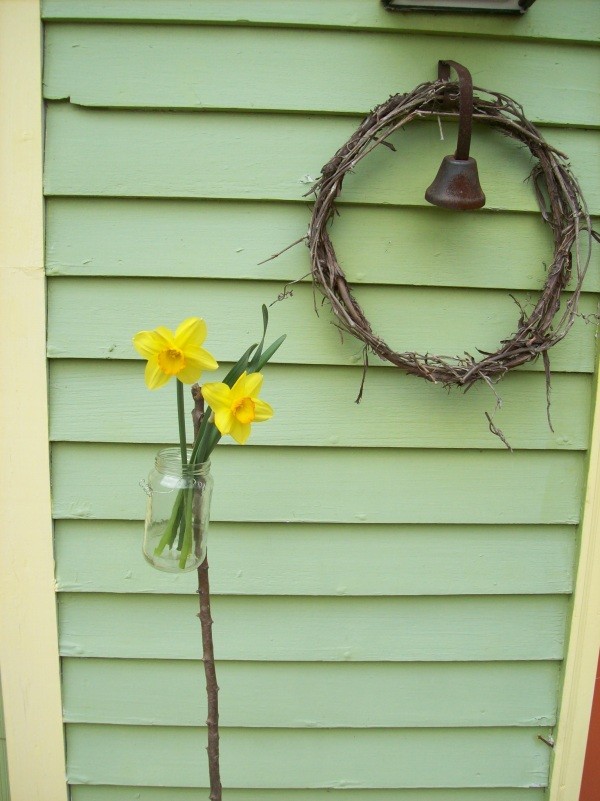 Approximate Time: 1-2 hours
Supplies:
recycled jars
wire
tall sticks of varying lengths
snippers or old scissors
knife or file
Instructions:
To keep the wire from slipping down the stick, cut a notch into the stick with your knife or file. Or use a stick with "nubbies" on it that will hold the wire in place.
Snip off a piece of wire about 2 feet long. Experiment with different gauges of wire for the look you want.
Working in the middle of the cut piece of wire, wrap it around the notch several times to secure it to the stick.
Now wrap the ends of the wire that are left over around the top of the jar.
With a pencil or something similar, curl the ends of the wire to form tendrils.
Now look for a spot in your yard or garden that needs a little color and push your vase-on-a-stick into the ground.
Add a little water and some flowers from another part of the garden.
Stand back. Enjoy. Smile.
Bonus tip: if the soil is too hard or too sandy, use a big flower pot with rocks to hold your sticks upright. :-)
Source: I saw a similar project in the book, 2 Hour Garden Art, by Ruby Begonia
By ~gloria from western NY
Comments
April 26, 2012
0

found this helpful
Top Comment
Love the cottage garden look. Hmm, great idea to use some of the branches that fall all over my yard. Thanks for sharing!
April 26, 2012
0

found this helpful
Thanks, Dreamon,
Our house sits underneath a gigantic weeping willow. It's constantly dropping twigs and branches (hoping the big limbs stay put!), so I have to think of things to do with all the "droppings."