I'm frugal because I just don't like throwing my money around! Not that I have a lot, being a single parent and not having a well paid job. There is also a deep sense of satisfaction knowing that I can do most things in a cheaper way. I like to try to be as 'green' as possible too.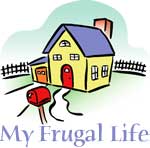 The best tip I can give for a frugal lifestyle it this - GET RID OF YOUR CAR! Now I know that many of you will have already stopped reading, but it saves me at least 2000 pounds a year, that pounds, not dollars. I cycle to work and use the bus if I need to carry anything bulky or heavy. I have a complete change of clothing in my locker at work since the weather in Northern England is notoriously wet.
Yes it takes longer, though strangely, not as long as when I get the bus to work. My bike cost me 250 pounds and paid for itself within a few weeks and I honestly can't see me ever owning another car.
My house is tiny and is a mid terraced, so my neighbours, very kindly, contribute to keeping my house warm! I don't have central heating and discovered a couple of winters ago that it was actually cheaper to leave the gas fire in my living room on its lowest setting all the time (in winter), rather than have the fire turned up full just when we needed it. This serves 3 purposes, firstly it keeps the whole house warm, secondly when we're not using the room I dry clothes in there using a clothes rack (I don't have a dryer as they use vast amounts of electricity) and thirdly it keeps our very elderly cat (she's now 20) happy!
The house is very well insulated, so that helps keep heating costs down still further. I have very thick curtains at all my windows, since I've read that large amounts of heat escape through even double glazed windows. I either bought the curtains, very cheaply, in charity shops or made them myself.
Most of my furniture is second hand, found in skips or given to me. Thinking about it the only items I bought new were the fridge, sofa and daughter's bed (which was her 18th birthday present). Luckily I love renovating and making stuff and a lot of my furniture was adapted. One of my best ever bargains was a set of table and chairs for £5, bought in a local church charity shop. I wasn't about to pay anyone to deliver it so I bought a 1 day bus ticket, took the table apart and made several journeys home with the set using buses.
The bus drivers were quite amused, but none of them refused me and I had some lovely conversations with total strangers. It did take me most of the day but the sense of achievement was worth it. I also find charity shops great for household equipment; I've bought all sorts of things including a pressure cooker for £2 and a set of enamelled cast iron pans for £6. I know some people who will haggle in charity shops, but I don't do that.
Cutting down on meat eating is frugal too; I'm amazed by how many of the recipes on this site use meat! Veggies are cheaper and better for you and adding beans or pulses to the meal provide the protein. I do have a freezer and freeze left overs for taking to work. I also freeze butter wrappers for greasing baking tins etc. I never set out with a definite shopping list, I wait to see what's cheap and plan the menu around that. I never shop in supermarkets, as far as I'm concerned they are just not ethical instead I shop on the local market, where the traders get to know you and will sometimes offer you things a little cheaper.
I make stock from all the odds and ends of the veggies and freeze this too. If I'm boiling potatoes or an egg, then I'll fetch the water to the boil then turn off the heat but leave the pan on the stove, yes it takes a bit longer but it saves power. I also have a haybox cooker, though mine is newspaper not hay, but I presume everyone who's a bit frugal has one of these. I find that the Asian shops sell herbs, spices and pulses very, very cheaply adding some interest to my diet. For example I can buy 1 kilo of black peppercorns for about £2, but in other shops I would pay that for less than 50 grams!
Luckily I'm quite crafty, and can knit, so I knit quite a lot of stuff for myself. I don't pay full price for yarn though; I either scour the charity shops or go to a local shop where they will wind quantities off the cone for you, which works out much cheaper. Last year I was given a huge bag of yarn, unfortunately, there is not a lot of any one yarn, but the majority of it is wool. I am planning to knit and then felt pieces and then sew them together to make a rug.
I just haven't fathomed out what to use for backing yet. I also want to make some rag rugs and am collecting the fabric together for that. I also make cushions and some patchwork out of old clothing. Since I don't own a TV (I won't pay the £150+ every year for a TV licence, but I can't stand the drivel that's on it anyway), knitting, sewing and reading keep me nicely entertained at a modest expenditure and I listen to the radio, because that's free.
My clothing comes from sales and charity shops, though in my experience charity shops can sometimes be more expensive than regular shops, you really have to know how much you want to pay for something. With sales it pays to go regularly, at the start note how many of your particular size they have in stock, if there are a lot you can probably wait and get the item reduced further.
If however there is only one and you really want it, buy it then to avoid disappointment. I have had some fabulous bargains, probably the best was a pure silk, beaded and embroidered camisole for £1, which my daughter still wears and loves, and that was in a large retail chain.
I think being frugal is probably infectious, since my daughter is quite frugally minded too. Unlike many of her peers she simply won't buy things just because they are 'must haves' and always thinks before she spends any money. All her friends though say how welcoming our home is, even though we don't have many of the trappings that they have. They also seem impressed that I will take the time to bake and make things and some even ask me to.
There are still some things I'm planning to implement, for example I was reading on this site about using solar lights indoors. I think this is a fantastic idea and plan on buying a couple, I thought I could charge them outdoors and bring them in an evening, I think I'll put one in the bathroom overnight so that we don't have to put the light on when we get up during the night. I would love to get solar panels to heat our water but the cost is just prohibitive. I would also like to get a bike trailer to enable me to carry bigger loads, but that's only an idea at the moment, especially since I would have to find somewhere to store it. I really would like a wood burning stove, unfortunately since I live in a town it would contravene pollution laws so that's not an option, just a pipe dream. So I shall have to keep thinking about ways to reduce my gas and electric bills still further.
Although I'm frugal, there are some things that I won't consider giving up. I believe that there are some things that make life that little bit more enjoyable, for me a good cup of tea or coffee are such things. To reduce the cost of these I buy them in bulk, but I'm not about to stop drinking them, or buy cheaper brands, that would simply be a step too far.
Living a frugal lifestyle is sometimes challenging, sometimes even difficult and I think you have to have a very determined mind to succeed but its well worth the effort, the sense of achievement can be great.
Myrtle May from UK
Do you have a frugal story to share with the ThriftyFun community? Submit your essay here: http://www.thriftyfun.com/post_myfrugallife.ldml