September 24, 2010
0

found this helpful
If it's discoloration where the ceramic has physically changed colors, there may not be much you can do. The oven cleaner may have chemically caused permanent discoloration. However, if it's merely burnt on stains, you can try the below cleaners.
According to this site, you should not use anything with bleach, ammonia or caustic ingredients (i.e. oven cleaners). They can cause discoloration.
lancaster.unl.edu/.../cooksurface.shtml
Have you tried cleaners like Cerama Bryte? Amazon users love it.
www.amazon.com/.../ref=a9_sc_1?rh=i%3Aaps%2Ck%3Aceramic... (Affiliate Link)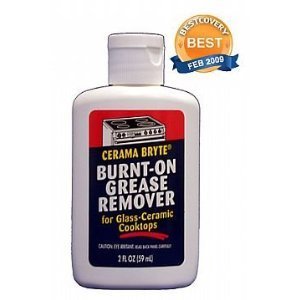 September 24, 2010
0

found this helpful
Maybe this YouTUbe video can help...
September 25, 2010
0

found this helpful
If it is just burnt on a Mr Clean eraser works really well. You would have to use some elbow grease and clean it several times.
The eraser has always gotten burnt food off my flat top stove when other things haven't worked.
September 29, 2010
0

found this helpful
Hi, we just posted this tip about cleaning your cook top, perhaps it will be helpful.
www.thriftyfun.com/tf68052587.tip.html
Let us know what worked best for you.