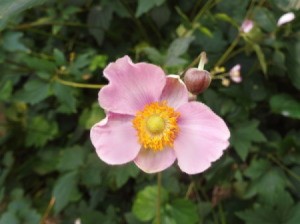 This flower is rather new to me. It was given to me a couple of years, ago. Just today, I learned it's name. It is a Japanese anemone. One of it's popular common names is 'wind flower'.
Since finding it's name, I did a bit of research. They are perennials, available in a wide range of colors. They are a rather slender plant, attaining a height of around two to three feet. They die down to the ground each winter and return each spring.
They can be easily grown from seed and require very little care. They do not appreciate strong, full sun, and thrive in part shade.
They do have one peculiarity. They are very sensitive to both dry and wet soil. During the growing season, they should be kept evenly moist at all times.
An attribute of this flower is that it blooms late summer when a nice splash of color is welcome. It tends to multiply rather quickly. I over wintered mine above ground in pots (zone 7b). They didn't seem to mind, at all.
Unusual for me, I've never checked to see if the flower has a fragrance.