November 4, 2009
0

found this helpful
Give her some of the following:
1/2 Cup Evaporated Milk

1 Tbsp. real mayonnaise

2 tsp. karo syrup white

2 drops infant vitamins

1/2 tsp oil, cooking oil (like olive oil)

Mix this up and feed it to the kitten. I have raised many kittens on this formula. It is easy on their stomach. Racer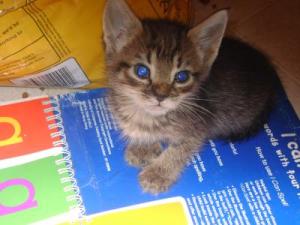 November 4, 2009
0

found this helpful
It is the natual instinct of a kitten to nurse on an older female cat. Why try to stop it. The older cat will or the kitten will stop in time.
November 6, 2009
0

found this helpful
it is absolutely common for an older cat to adopt an orphaned kitten;mine have done it.The kitten is getting more than milk; it is being nurtured.Don't try to stop it.
November 6, 2009
0

found this helpful
I'm not sure that anyone actually dealt with your particular problem. Is your kitten still of nursing age? Is the older cat a female, and giving milk, or just irritated? The "normal" reason for kittens to try to nurse from other cats, and nearly anything they can get their mouth around, is that they were taken away from the mother, or orphaned, before they were ready. It seems dogs can be weaned just fine at 6 weeks, for the most part, but kittens seem to take a bit longer. Usually, with patience, they will grow out of it, but the need seems to be there for comfort, as it is with all little creatures. Try giving it, after it eats, a play toy that it can be distracted with. Hope all works well.
November 6, 2009
1

found this helpful
Leave the kitty and older cat to follow their natural instincts and don't worry about it because they know what they're doing :-)
November 6, 2009
0

found this helpful
Don't worry about it, it is perfectly natural. The kitten will stop on her own as she outgrows the desire to nurse.
December 9, 2010
0

found this helpful
I had a one year old cat and a kitten who fought like crazy. I kept them separate for quite a while. Then finally I let them together. They stopped fighting and the kitten began sucking on the older cat. Nothing ever came out but they both seemed fine with it and I thought it was sweet. The kitten eventually grew out if it.