When we think of lavender, we think of the pretty, light purple flowers that blow gently in the breeze, producing a lovely, heady scent. The lavender's scent has been used for many years in bouquets, sachets, and potpourri. Did you know that lavender has many other uses?
Lavender plants repel insects. Place them around the house, or grow them near the patio. Boil the flowers in some water, and keep the liquid mixture handy to relieve insect bites. The flowers of the lavender plant can be used either fresh or dried in the rinse water for your hair or clothes.
Lavender also can be used in bath products. Here's an easy recipe for a fragrant lavender soap:
Lavender Soap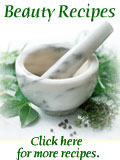 (Not only is this soap cleansing, it's pretty! Consider giving it as a gift in clear jars, decorated with ribbon.)
Ingredients:
8 tablespoons boiling water
10 tablespoons finely grated castile soap
2 tablespoons dried and crushed lavender flower petals
4 drops of lavender oil
Crush the flower petals until they are powdery. Melt the soap in the bowling water in a double boiler. Stir it frequently until it is smooth and melted. Remove from heat, and stir in the crushed flower petals. Pour into a bottle and keep covered.