The first Christmas after my husband and I divorced looked as though it was going to be very hard. I had four children, two teenagers and two little ones aged four and three, and virtually no money for food or gifts.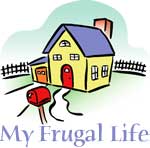 We also had no parents or other family relatives to help out. Very few people knew of my predicament, and I hadn't gone to, or notified any charity organization, but I was determined to do what I could for my children.
I priced out and budgeted for a humble Christmas dinner, a chicken to roast, some vegetables and salad greens, and for dessert tinned peaches and icecream. No pies, cake or candy.
Having the dinner menu settled in my mind, I thought of other things. I had no money for a Christmas tree, either real or artificial, but I found a branch that had snapped off a gum( Eucalyptus) tree, it still had all its leaves, so I dragged it into the living room, and the children and I decorated it with what we had, some strings of silver tinsel, a few glass balls, some paper streamers, and the little ones thought it was beautiful.
Still nothing for gifts, but just before Christmas a small cheque arrived in the mail, so I was able to buy each of the children a few small gifts, wrapped in bright paper. The gifts were humble, but I was thankful I was able to give them anything at all.
So Christmas day came, and just as we were finishing lunch there was a knock at the door, and there stood two young men holding large boxes. They smiled brightly and said they had been sent with gifts for us. 'We're Angels!' announced one of them with a smile.
Bemused, I let them in, and they started to unpack the boxes. One had an array of foodstuffs, A Christmas cake, assorted candy and chocolates,Tinned ham, fruit, and even practical things like boxed cereal and bread.
The second box contained several gifts for each for the children, and even a box of chocolates and lavender talcum powder and soap for me! It was all amazing, and when I asked the "Angels' if they would like a cup of coffee or a soft drink they thanked me but said they had further places to go.
I never did find out who had sent those Angels, nor who had told them we were a family in need of a little help.
So, our frugal Christmas day was considerably enriched by the goodness of unknown persons, and I have never forgotten that day.
Ellie from Melbourne, Australia
Do you have a frugal story to share with the ThriftyFun community? Submit your essay here: http://www.thriftyfun.com/post_myfrugallife.ldml