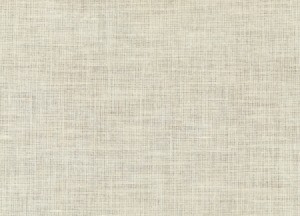 A great way to decorate a rental that will not harm the wall is with fabric that's held up with old fashioned Liquid Starch. If you can find a fabric you love at a price you can afford, then you can't beat this handy trick! Cotton or a cotton blend works best because it absorbs the liquid starch. It's also important to first wash your fabric before hanging because this not only removes any sizing, but washing also pre-shrinks the fabric so it won't shrink once it's hung and dry.
All you need are a few simple tools and a measuring tape to figure out how much fabric to buy. (Cotton fabric is usually 45" wide)
Besides the fabric, you'll need: a bucket or large container, a large sponge, a paint roller or brayer, a gallon of liquid starch, a roller cutter (for cutting the fabric once it's hung) and a chair or step ladder. It's also nice to have a friend help out. All you do is dip your washed fabric into the bucket of liquid starch, then wring it out a bit. Next, hang the fabric starting at the ceiling, then cut the excess off with the roller cutting wheel. When it's time to move, simply pick a corner off with your fingernail, then pull it off in one easy motion. Then simply run the fabric through the wash and rinse cycle a few times and stash it away for another project or for hanging up again in your new place. This decorating technique is especially nice for those of us who keep changing our minds, or who get tired of things quickly.
Source: FOR MORE DETAILS: HGTV
By Cyinda from Seattle