This tip is "for the birds" in your garden. I don't throw away large sticks that fall during storms, instead I keep them and use them to make stick sculptures for the birds. They add whimsy to my garden and the birds "love" to land on them because after all they are sticks from real trees. I started with a plain garden hook and just attached the sticks as I found them and it's an ever changing sculpture. You can add birdhouses or anything you want to, but I guarantee you that the birds will land on it and land on it "often!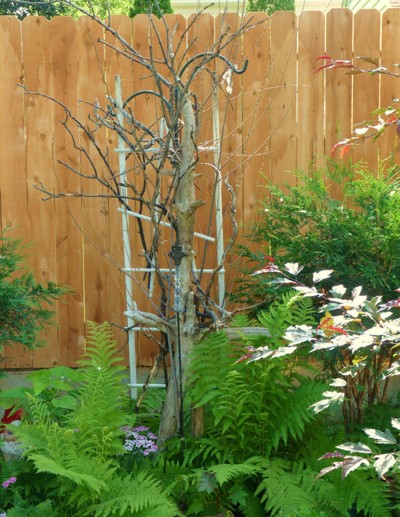 My neighbor came to my garden and said, "What's that?" and I told her it's my stick sculpture for the birds. She loved it and went right home and made her own! Have fun with it! I used either twist ties to adhere the large sticks or those plastic bands you use to secure things that never come lose unless you cut them. After that I just intertwined sticks randomly and securely.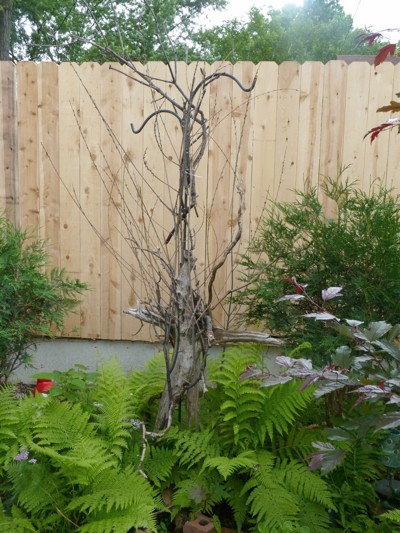 I also have a bird station with many feeders on it. I added sticks to it and the birds really loved that too. The birds can land as high as the stick is. It seemed to make them feel safer about landing on the feeding stations. It might look crazy but the birds seem to think it looks like a place they want to land and spend time on.
For more whimsy I added some extra items within the sticks. You can hang sparkly jewels if that's your preference or just leave it natural like you are up in the woods. All types of birds land on my stick sculptures including the woodpeckers.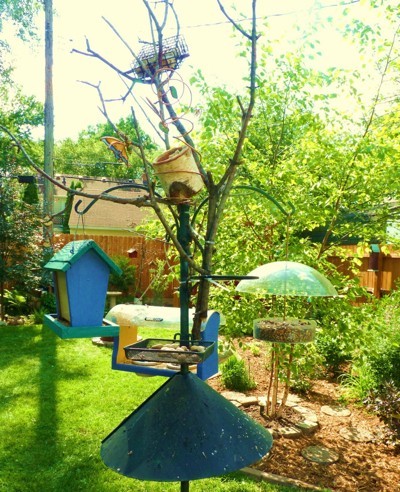 So remember, when you see a large stick in the road or in your yard, pick it up, there is a bird out there would love to land on that very stick if you place it high enough. Best of all sticks are free and constantly available. I love the birds and they love my crazy garden and all the "stick sculptures" I have made for them.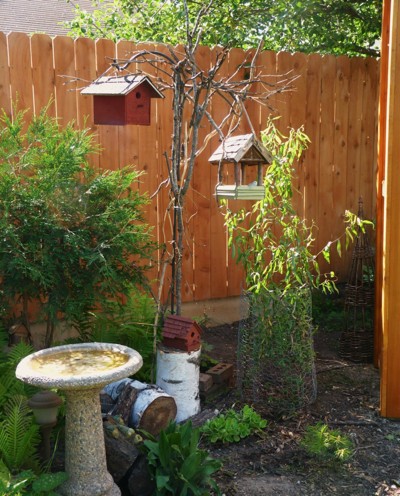 On one stick sculpture I have added an old broken trellis and am going to grow a vine on it, it will look even more natural and fun.
By Jean from Richfield, MN