May 10, 2010
2

found this helpful
A Staffordshire Terrier is different from a Pitbull. Sometimes people who don't know the difference & their history will use the two names interchangeably, but they have different bloodlines. For years the Pitbull has been bred to fight, while the Staffordshire has been bred for many years as a gentle show dog.
-----------------------------------------
The difference between Pits & the American Staffordshire is kind of hard to understand & even breeders can't agree, but the main difference is the bloodline. American Staffordshire is show dogs & dog fighters won't used a dog with Staffordshire blood because they are deemed too mellow, whereas the Pitbulls were bred to do "bull bating" & dog-fighting.
SOME HISTORY:
In the 1800's in Staffordshire England, they crossed a bulldog with several Terriers & got a muscular, combative dog. This dog was then brought to America & was preferred by American breeders who increased it's weight & gave it a more powerful head. It is now recognized as a separate breed. The American Bull Terrier is larger & heavier than the Staffordshire Terrier. After dog fighting was banned in the USA in 1900 two strains of these dogs were developed, a show breed & a fighting breed. The show strain was named the "American Staffordshire Terrier" & the fighting strain was named the "America Pit Bull Terrier". They are now recognized as separate breeds, but these days the Pit Bull Terrier is being bred with the same gentle & loving qualities as the American Staffordshire. In the future, there won't be a difference between the two.
MORE HISTORY:
www.bulldogbreeds.com/americanpitbullterrier.html
AMERICAN STAFFORDSHIRE TERRIER:
www.dogbreedinfo.com/americanstaffordshire.htm
AMERICAN PIT BULL TERRIER:
www.dogbreedinfo.com/americanpitbull.htm
-----------------------------------------
If properly socialized, the Pit Bull is a wonderful family pet... In fact, right now our Seattle-King County Animal Shelter is sponsoring a re-education program to tell people how amazing these dogs are and for the first time in years, there has been a waiting list in Seattle to rescue a Pit Bull! ...These loving dogs weren't always thought of as the "menace to society" we see them as today. This attitude was partly brought on by the media & partly by irresponsible, uneducated owners failing to properly socialize their pups while they are young. Add all that together & the fact that Pits have such large litters, most shelters have an overabundance of pits bulls!
Back in American history, the Pit Bull was used to represent the U.S. in WW1 Artwork (because of our stubborn "can-do" attitude!) and the pit was so loved by Americans, that companies like RCA and the Buster Brown Shoe Company used the breed as their mascots! Not too long ago the Pit Bull was one of the most popular American dog breeds and the show "Spanky & Our Gang" made the Pit even more popular as a family pet!
No matter what your dogs bloodline (Pitbull or Staffordshire) he (or she) needs to be walked every day for at least 45 minutes because cooped-up dogs that get little exercise get bored & tend to get themselves into trouble! You also need to introduce your dog while it's young to children and other dogs and animals so he gets used to them at an early age. Never rough-house with your dog (not even while playing!) or it will learn to be rough & fight. Don't ever let it nip at you! Dog's enjoy structure & a routine. When you take your dog for its daily walk, never let it out the door while it's excited. Wait for it to mellow out before stepping outside. When on your walk, keep your dog near you & keep in total control at all times, don't let it walk out in front of you. Dogs love structure and if you handle them with confidence they feel secure and happy. Remember, a dog thinks like a dog, not like a human! A dog is not a baby (even though we love them so much, we sometimes wish they were our kids!)
May 10, 2010
1

found this helpful
If you are asking because your city has restrictions, like most do, on keeping Pitbulls, etc. in the city limits, my response is:
Unfortunately, most cities with bans against Pittbulls include the Staffordshire Terrier, and several other types of terriers in the ban. Check with your city office to be sure, some fines are huge.
May 10, 2010
5

found this helpful
The picture shows the result of an unprovoked attack on my little mongrel dog, Ben, by a Staffordshire bull terrier which the owner assured people was friendly. The injuries cost me £600 in vets' bills.
Admittedly, I have seen some very friendly Staffs around, but they can be dangerous.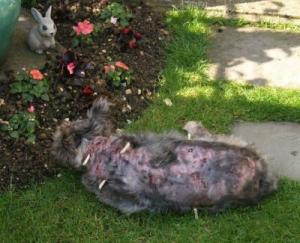 September 29, 2018
0

found this helpful
Ok here we go any dog can be dangerous take my 3 dogs out of the 3 i have Staffordshire, a lab mix and a border collie mix i bet you 100 that the border collie would be the most likely to bite 2nd my lab mix and about the only way to get my Staffordshire where he would would be is for someone to try to harm my wife are kids then he would protect them but thats what he should do as for him with other dogs he is vary submissive i have had him for 5 years he has always avoided a dog fight he will just roll on his back lol
May 25, 2019
0

found this helpful
Any larger dog can do just as much damage! Im sorry about your dog being hurt! And that is on the other owner, for not doing their part in properly training and socializing their dog. My American Eskimo (several years ago) was attacked and torn up by a shihtzu/lab mix. Its not the breed, its the way they are raised! My boxer/pitt mix was the sweetest dog ever, and tolerated being bitten by a yorkie without retaliation.
Just saying ... its not a good thing to breed discriminate, and the media hypes it up and gets people in a bad frame of mind towards certain breeds, its heartbreaking for the dogs who have to be euthanized for no reason other than breed. Ive been a dog trainer and groomer for years ... I rarely get bitten, but the times I have were from a collie, a German Shepherd, a shihtzu, a yorkie and a lapsa apsa.
April 26, 2020
0

found this helpful
How awful that your dog suffered so much bodily damages; sure hope it has pulled through. There are some pitbulls that are gentle and wouldn't hurt a flea, however, it's very difficult to tell the difference from the other closely bred Staffordshire. The pit is bred for fighting and unlike other dogs, they hold onto to their prey tightly with clenched jaws and violently shaking. It takes a lot to get an attack mode dog off your pet or people. More deaths in the U.S. has been caused by a pitbull dog than any other breed. Most breeds bite and let go; not a pit.
My small cocker was attacked on her own premise and the neighbor's unconfined dog hid under the deck when I let my dog outside to potty. This same dog's aggression caused her death a week later.
The unconfined pit charged toward my husband in attack mode while our dog was at the vet that same week. He had to carry a pistol on himself when outdoors on our own property. The neighbor called the dog back after its electronic collar failed to work. The dog trespassed.
We took the entire matter to court and WON the case. Keep paper records of all complaints made to the animal shelter, have your pet's vet go to court on your behalf and medically explained the damages done; our vet volunteered to do this, the chief dog warden also volunteered to appear in court, bring any photos of your dog's before/after attack and go to your local board of commissioners if you feel the animal shelter is not addressing the issue to your satisfaction.
The attack dog was deemed dangerous and put down by its owner who was not able to pay for its insurance and we received full financial restitution plus peace of mind the owner's negligence woke up a realization to be more considerate of laws in place, of other people and don't put full trust in this breed; they can turn on another animal or person most unexpectedly often times killing.
There's a lot of youtube and numerous websites to learn more about people who have suffered by this breed alone. Repeating again, that pit bulls don't just bite, they hold on and wont' let go unlike other dogs.
I've educated myself on this breed and these dogs should never be unrestrained. At least people who have these dogs could have a wire muzzle on them when outdoors to protect other people even if the owner feels they are harmless, loving and caring to their own family.
Many pits have attacked within their own home and killed the owner or maimed them for life. Those who surivived the attack say they would never have expected that from such a loving and trusting dog.
It's a serious matter and should be wisely studied before getting a known aggressive breed dog as a pet, especially from an animal shelter as these dogs have traveled statewide/counties and their history is lost. A new name is given and no trace of its past behavior is known. They are then advertised as family friendly and oftentimes proven wrong. This isn't an opinion of mine, it's factual.