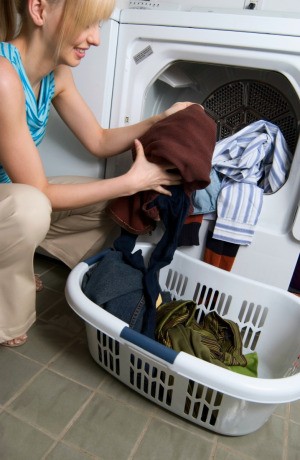 You don't need to buy a new dryer, repair it. I got a very high estimate on repair of the drum of our 30+ year old Kenmore dryer. ($235). The part was $33, a belt. The new dryers we looked at were too wide to get through our doors. So, using a plain ole' flathead screwdriver and the instructions on Ehow, I began to dismantle our Kenmore dryer.
Use a strong lighting source, and buy the belt at an appliance parts store. Shop around - I did not buy the $33 one, but found one for $20 in a closer location. After exposing the innards, I realized it was no more difficult than replacing a vacuum cleaner belt. Just more time-consuming. In the end, I was very pressed for time and phoned a repair person. (no, not Sears!) Their estimate was 1/3 of the estimate from the first place. The time spent on my job was less because I'd already dismantled the dryer.
So I combined DIY and an good repairperson. I learned something, too: older dryers, like our 30 year old dryer, have metal parts that don't wear out easily. Newer dryers have plastic parts that wear out in 5 years, requiring a service call. So, look on Craigslist or other swapping sites (freecycle, etc) for old dryers that are free. I learned that dryers, despite all the bells and whistles, well there is not a whole lot of difference, but a new dryer can cost over $1K!
By mary knight from Kensington, Maryland
Read More

Comments

I am having issues with my dryer leaving what looks like oil spots on a lot of my clothes that will not wash out. I have tried to eliminate all possibilities, cheap detergent, dryer sheets, even filling the washer with water and detergent before adding clothes. It doesn't happen to all my clothes, but enough. Is there anybody that has experienced this type of issue, and if so, how did you resolve it. Any info will be greatly appreciated.
Bryson from Nashville, TN
Answers
By tracy (Guest Post)
November 14, 2007
0

found this helpful
Call a repair man your motor in the dryer could be causing it, or leaving lip stick or pens in your pockets.

Marjorie
Silver Feedback Medal for All Time! 290 Feedbacks
November 14, 2007
1

found this helpful
There might be some oil leaking from the motor through the vent in the back of the dryer into the rotating drum. This is just a thought that came to me.
Come to think of it, I believe the motor is on the bottom. Could some oil be leaking in from a drive shaft that turns the drum?

November 16, 2007
0

found this helpful
Are you sure it is from your dryer? I have had that before and found out it was because the transmission from the washing machine had gone out and was losing the oil in the drum, splattering all of my clothes. It was more noticeable on my whites.
I hope this isn't the case but it might be a possibility. Good Luck.

November 16, 2007
0

found this helpful
Do you use liquid fabric softner? It can leave spots - I've always been able to get them out by rewashing.

November 17, 2007
0

found this helpful
Sounds like your washer or dryer is leaking oil. You will probably have to call a repair man for this one.
By kathy watson (Guest Post)
November 17, 2007
0

found this helpful
Happens to me too! I notice the spots on dark blue or black t-shirts mostly. I really can't believe that my washer and dryer are leaking oil because my old machines did it too.
New machines, same oily spots!! I thought this only happened to me. At least we know we aren't crazy!!
By sue (Guest Post)
November 19, 2007
0

found this helpful
I had the same problem. I have a brand new wash and dryer. I just thought it was my old one. I think it is from liquid fabric softener. When I rewashed the clothing it came out. I now only use dryer sheets for my darks and haven't had any problems.

November 22, 2007
0

found this helpful
A couple of my friends and I, too, had this problem
at one time. We all found that by either changing
liquid fabric softener or diluting it, or adding it by
hand when the rinse cycle was swishing around,
and not in the dispenser helped.
Rewashing the items removed them for me.
By nickie (Guest Post)
April 2, 2008
0

found this helpful
I have been having this same problem for months now, I don't use liquid fabric softner, I have had both machines serviced, it seems to only happen to mine and my 18 month old's dark clothes. Ah! I've tried washing and drying inside out, nothing seems to work! I'm starting to think it is something in my water! Sorry I can't help, can anyone else?
By Karen (Guest Post)
September 17, 2008
0

found this helpful
I don't use liquid fabric softner or dryer sheets but do use laundry soap WITH softner, could this be the cause?
By (Guest Post)
October 1, 2008
0

found this helpful
I am reading my own complaint exactly. We are now in the process of dealing with the actual water coming into our home. We replaced water softner/hot water tank and now after having my washer/dryer serviced 4-5 times bought new ones and my first load had same issues.
Mostly on darker cottons(shirts). We have been told it could possibly be mangenise(not sure of spelling) in the water so we are currently getting tested now. Hope this helps.
By Carol (Guest Post)
December 1, 2008
0

found this helpful
It is so good to see others with the same problem. My friend and I are ready to send the clothes to CSI to get an answer! We too bought a new washer and dryer......same spots. I recently thought I had this sovled by using powder laundry detergent and dryer sheets. But, alas, spots yesterday. We thought it may be the water too but my friend has well water and we have city. There has to be an answer out there somewhere.
By leslie (Guest Post)
December 9, 2008
0

found this helpful
I had the same thing hapen to me, my parents thought I was crazy. I bought new clothes and took them to the laundry mat to wash them and brought them home to dry and got the same spots on clothes that were not washed in my home washing mechine that I had origianlly thought was the problem now I know its the dryer. I too changed from liquid detergent to powders etc. trying to figure the problem out.
Read More

Answers
I am hoping someone out there can help me. I am desperate for some good electrical advice. About 2 1/2 months ago my dryer stopped working. I assumed the dryer motor went bad because when you pushed the button for it to start it just hummed at you. After verifying that the belt was still good we disposed of the dryer. I was then given a very old dryer that was said to be good. It did the same thing as my old dryer did so I disposed of that one as well.
I have now just purchased a used dryer and guess what, it also just hums when the button is pushed to start it. I then took this dryer to my mothers house and it works just fine. I have replaced the breaker in the breaker box thinking there was a problem there. I have tested the voltage in the receptacle and everything tests good Any ideas what could be wrong and what I could do to fix it?
I can't really afford to have an electric company come in and find the problem. Any suggestions for a solution would be appreciated.
Thanks,
Pattie from Warrens, WI
Answers
By (Guest Post)
January 20, 2006
0

found this helpful
I would check the circuit breaker. Believe it or not, they do go bad. You just pop it out and pop a new one in. Cost is minimal!!!

January 20, 2006
0

found this helpful
You didn't say if you were using the original "plug in" or Pig tale....The length of wire running from the dryer to the plug.....it could be shorting or not in good condition inside....or even have one "leg" broken.so it is only drawing 110 instead of 220....as could the part it plugs in to....wiring is a tricky subject......someone needs to check it all out with a volt meter....and make sure you have continuity to every part of the wiring......and of course you could of changed from one bad breaker to another bad breaker......You didn't say if any of them EVER worked in your house.....perhaps it is in the 220 wiring outside...does your kitchen range use electricity...or is there any thing else in your home that draws 220...
Sending hugs of understanding for your frustration!
Ace's Nanna
By Cheryl from Missouri (Guest Post)
January 20, 2006
0

found this helpful
My husband is an electrician, and after reading your problem and the few replies, here's his suggestion. Check the neutral in both the breaker box and the receptacle because the neutral is very important. The control uses 110 (one leg & neutral). The heating element uses 220. Test from one side of the 220 to the neutral - the slant hole to the L shaped hole of the receptacle. Hope this makes sense. I tried to translate from electrican talk. He also recommends a Time Life Book "Fix It Yourself - Major Applicances". It has very basic, but very well written, easy to understand photos, diagrams and instructions.
By Cheryl from Missouri (Guest Post)
January 20, 2006
0

found this helpful
You could call your local vo-tech school. Sometimes their students will come out and make repairs for low cost as part of class. Also, call your IBEW, electrician's union, and see if they are training any apprentices. They too may do the work cheap as a learning experience.

January 22, 2006
0

found this helpful
I have now tried a new wire from the breaker box to the dryer and a new receptacle and that still has not fixed the problem. As stated in the original post a new breaker has already been tried. Voltage has been tested on both the old wire as well as the new wire and that all test out good.
By Master Electrician (Guest Post)
May 27, 2006
0

found this helpful
The best advice you should follow is to call a LICENSED, INSURED, QUALIFIED Electrician to fix your problem.
By doing this you will be able to sleep knowing that it was done right the first time.
Answer

this Question