When my husband recently had shoulder surgery and found out he would be off work most of the year, we were forced to cut back and live frugal.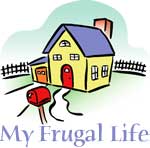 The first few things we did were to cut our cable package down, change our cell phone options, disconnect the land line, stop using the dryer and start hanging our clothes out or on the shower rod. We had an old wood stove in storage, so we brought it into the house and hooked it up to cut our electric bill. I cook on the stove on really cold days to keep from using the electric range. Of course we had to juggle all our bills and beg for reduced payments on medical bills, credit cards etc. It does help stretch what we have coming in every month, even though it won't cover all expenses.
We clip coupons from magazines and newspapers I collect from friends and family. We eat very simply, no luxury items go in our shopping cart! By doing this and only buying what is on sale, I am able to spend $250.00 a month to feed 2 people. Yes, we miss the nice things we used to be able to afford, but we are learning to appreciate the important things. Turning off the TV and reading a book, just talking, looking at old family photo albums, and taking walks around our neighborhood and enjoying nature are great entertainment. Getting creative together with meals has also been fun. We use what we have in the pantry and have made some wonderful dishes.
We cut back on our gasoline expenses but running all errands in one day, and staying home more. I go to work and use our smaller, much older car, to get the most of our gas mileage. And, I might add here, it is a standard transmission so I put it in neutral and coast downhill as often as I can!
All in all, it has been an adjustment but, it has been so life changing for us. We may not be out of debt for 5 years, but we will enjoy those years by being grateful for what we DO have and not waste time grumbling about what we don't have!
By Tabitha from Depew, OK
Do you have a frugal story to share with the ThriftyFun community? Submit your essay here: http://www.thriftyfun.com/post_myfrugallife.ldml