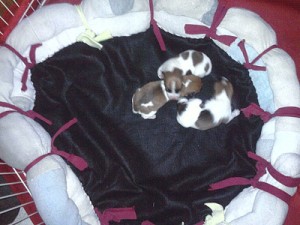 Give your missing socks a new purpose. Make a dog or cat bed.
Approximate Time: 4 hours
Supplies:
mismatched socks
old stained up tee shirts
thread
scissors
felt
Instructions:
We have a medium size dog so I used 14 socks and 6 tee shirts ripped up to make strips. I made a 2 layer ring of the socks, to create the sides.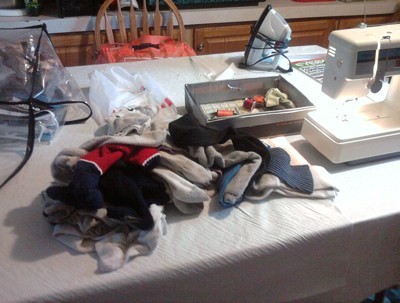 Next start stitching socks together, when stitching one goes inside the other, (the outside sock is right side-out, the inside sock should be wrong side-out and shoved inside carefully to match the edges)

After every 2 socks or so, begin stuffing the socks with socks or cut off strips of tee shirts, or whatever your stuffing choice is.

It may become very hard if you stuff more than 6 at a time. I had to put them on the end of a broom handle and slowly shove them in.

Take 10 strips of tee shirts (I cut around the waistline to make a circle and then I made 1 cut to make a long strip.) Tie the 2 layers together (I knotted several times, dogs love to chew!) to form 1 ring.
Lay the ring of socks out on a piece of paper and trace around the outside and add a couple inches and cut circle out of felt or fleece.

Hand stitch the circle of fabric to the bottom of the ring

Note: I had some felt laying around, you could use an old tee shirt, old sheets, etc.
Good luck and have fun.
By Lisa from Auburn Hills, MI
Comments
March 31, 2011
0

found this helpful
How ingenious are you? So cute! Such a good idea! The puppies are adorable.
April 1, 2011
0

found this helpful
How creative and a wonderful use of odd socks and T's. Great step by step photos.Thanks for sharing.
April 1, 2011
0

found this helpful
Thanks everyone, and yes they a Jack Russell pups a week old in that picture.
April 3, 2011
0

found this helpful
I'm with the rest of the crowd! what a great idea, soft and cozy. Adorable pups! Great job!