Being frugal has to do with more than just money; you need to be frugal with your time.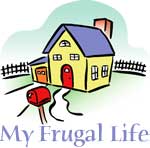 This was especially true years ago when moms stayed home to care for the kids, clean house, and have a meal on the table when hubby got home from work.
One thing that took a lot of time back then was doing our own hair styling. At night we would wash our hair, roll it with those spiky brush rollers, then toss all night trying to get our head in a comfortable position. The next morning, the rollers would come out, we would tease every strand of our hair, then comb it, which took maybe 45 minutes to get it just right, then we would spray it with lots of hair spray to make sure even a tornado wouldn't affect it.
Back then, we would wear these crazy cloth wrap-around things on our head at night to keep our hair in place while we slept, that way we only had to go through the whole hair styling torture once a week.
One morning, I finished my hair routine by spraying my hair, then I picked up the basket of clothes and took it outside to hang on the line. Did you know that bees are attracted to hair spray? I had just stared hanging clothes, when I heard a buzzing sound then felt a weight on the top of my ratted hair. I walked back into the house, being careful not to move my head and looked in the mirror. There, on top of my hair, sat the biggest bumble bee I have ever seen!
I carefully walked into the center of the back yard and shook my head from side to side, up and down as hard as I could. This only made the bee mad and it would buzz angrily each time my head shook. In the hopes he had flown away, I went back in the house and looked in the mirror - still there.
Back outside, I ran all the way around the perimeter of the back yard chain link fence, then checked the mirror again, still there. Making sure to keep my head still, I went to the furnace room and picked up a can of hair spray, walked into the middle of the yard, closed my eyes, held my breath, and sprayed the bug spray like crazy above my head. I walked back in the house, looked in the mirror and praise be, the bee was finally gone! But now I had to wash my hair and go through the whole torture routine again.
I have often wondered how many women were peeking out their kitchen windows at me that morning, I guess they still talk about the crazy lady who use to live in that house.
By Fortunately from Fairview Heights, IL
Do you have a frugal story to share with the ThriftyFun community? Submit your essay here: http://www.thriftyfun.com/post_myfrugallife.ldml