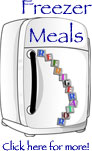 This delicious sweet bread is perfect any time you need a treat or a quick dessert for unexpected company! This bread is also wonderful as a gift for any occasion!
Ingredients:
3 1/3 cups all-purpose flour
3 cups sugar
4 teaspoons pumpkin pie spice
2 teaspoons baking soda
1 teaspoon salt
1/2 teaspoon baking powder
4 eggs
1 can (15 ounces) solid pack pumpkin
2/3 cup water
2/3 cup vegetable oil
2 cups (12 ounces) semisweet chocolate chips
1 cup sliced almonds, toasted (optional)
Directions:
Preheat the oven to 350 degrees. In a large bowl, combine the first six ingredients. In another bowl, combine the eggs, pumpkin, water and oil: stir into the dry ingredients just until moistened. Stir in the chocolate chips and almonds (if desired).
Pour the batter into 2 greased 9 inch x 5 inch x 3 inch loaf pans. You can also make three smaller loaves in mini bread pans. Bake for 70 to 75 minutes until a toothpick inserted near the center of the loaf comes out clean. Cool for 10 minutes before removing from pans to cool completely on wire racks. Wrap in foil and freeze for up to 3 months.
To thaw, allow the loaves to sit at room temperature.