By Ellie (Guest Post)
August 16, 2007
0

found this helpful
Sabrina, that could have been almost my own story, so similar was my experience. I think you have to accept that for some cats 'tolerating' is the best they can do. I had for one year, a very fiesty grey female cat.. then came along a lovely ginger male (a stray) now they've both have been here with me for six years.
She has never bonded with him. She doesn't hiss or attack him, but they never groom each other, sleep together, or so on. they just travel their own paths. Although I would like to see them cuddled up together, it's not going to happen and it's their choice.
By mary (Guest Post)
August 16, 2007
0

found this helpful
I have six cats. My solution to any problem with cats is the same, because it always works: Grooming, grooming, and more grooming. Have combs and brushes in every room, that you can reach for. This is such immense pleasure for the cats that it overcomes any other desires. It is SO healthy and bonding for them. My solution is grooming as much as you can and more. Let others who are in your household do the same. The cats will be much happier and healthier.
November 10, 2017
0

found this helpful
I don't agree, l also have six cats. Persians and himalyans. They hate grooming HATE it. That does not work.
By mary (Guest Post)
August 16, 2007
0

found this helpful
Another thought: Since we are a 6-cat household, and they span different ages/sexes, we have had to put in another litter box. Cats don't have the same preferences for litter, and a crabby constipated cat won't get along as easily with others as a "regular" cat.
By Carla (Guest Post)
September 25, 2007
0

found this helpful
I have two neutered male cats who have been living together in my house for over 3 years. Before the second one moved in, it belonged to my neighbor, so they cats have 'known' each other for several years, but have only been house-mates for 3 years. They have never gotten along...my big male has always picked on the younger one, even when the younger one lived at my neighbor's house. It has been a slow process, but they are now able to be in the same room without the big one whipping the young one's a**.
The thing that seemed to work best with mine was to feed them in the same room..that way, they identify meal time with being around each other. They have tangled several times in the last 3 years, but it's gotten so much better. I have also tried to admonish the big cat when he starts his 'death stalk' toward the little one. Good luck. Sometimes they just do not get along with each other....like people, I guess.
By maria (Guest Post)
March 30, 2008
0

found this helpful
I hope someone here can help me. I've had a girl and boy Siamese for 8 years. All of the sudden and out of the blue my girl is hissing at her brother and hasn't stopped in two days. What could have happened to her?
By Maleeka (Guest Post)
April 11, 2008
0

found this helpful
I have 4 Persian Himilayans. I started out with a white Persian himmei and then got a bluepoint male and decided to mate them. The mother had 4 kittens and all died except for one male so I kept the male. The mother then had 4 more kittens and I kept a blue female out of that litter and sold the rest.
Now the father and son are not getting along, initially they were best buds but now the father constantly stalks the son and the mother being a mother beats the father for fighting/stalking the son. It's a real cat fight everyday in my house. Please help, any ideas?
By LadyHvnly (Guest Post)
April 12, 2008
0

found this helpful
Well, of the oldest females in my home, she does not play nor ever has played with the other two cats (brother and sister). Although on occasion I will catch them chasing one another down the hall. That's about it. But my small dog will do the same.
The brother and sister sleep and groom one another and of course Mr. C will be a pain to Neka as well and bug her until she hisses at him to leave her alone. I guess in time they will adjust. As Neka I have caught grooming Boomber (the oldest female) but Neka will groom my big dog also! She is a groomer, talkative, loveable cat. Boomer is a skittish female, and Mr. C well he is a man cat! LOL, it all takes time.. as all my cats are now 7 yrs old!
April 13, 2008
0

found this helpful
Hi All!!
do you see the picture included of three cats? well those are mine.. the orange tabby and the tortoise are brother and sister. boomer is the oldest of the three and she is the tiger on the end.. anyway.. i re-read all of the posts again, and have to agree.. try using the same brush on all your cats.. feed out of the 'same' plate (not bowl) use a large plate if you have to...
their scent will be on the plate no matter what... also if they fight.. use a spray bottle..
its always hard on you, when there is a 'bully'.. but it is a dominant thing.. the 'alpha' attitudes going on.. LOL
you also might have to either live with what you have, if you cannot find any other solutions, or find another home where they can find some peace and happiness.. that is the hardest and last resort.. good luck!!!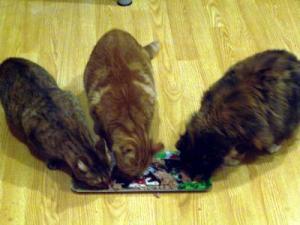 By Elizabeth (Guest Post)
June 5, 2008
0

found this helpful
I have a bully Siamese mix, my other cat brought her home. I've had her since she was 6 weeks old. (she is fixed he is not) She is horrible, she bites him hard enough to break skin pushes him out of his sleeping spots, and he just takes it and will snuggle up next to her and clean her ears. It got to to the point she wouldn't let him eat. I've always done the one bowl thing and the same brushes, too cheap to buy two of everything.
So I put her a cage in front of the food bowl and feed him the yummiest wet foodIi could find. I made sure I only gave him what he could eat in one setting. So she only got to lick the plate. I did this every day at the same time. At first she was even meaner to him, but she got sprayed with the water bottle and put in her cage. It took her about 3 months but she got the point that I wanted him to be top cat. As long as I keep on top of it and make sure she knows the pecking order, she does very well.
She is a lot calmer for it and he will stand up for himself. Now they just love each other.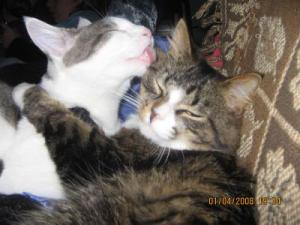 By whits end (Guest Post)
July 31, 2008
0

found this helpful
We have 2 cats. a six yr old female who was here alone until 2 yrs ago. Then to the door arrived a little black female. The older lives in the house, except when on the patio. The younger lives in the garage and outside, coming in only at night or early AM, when miss nasty is out on the patio. Any time the older can get a chance she will chase or beat up on the younger. IS there any hope? I so would like them to both be able to stay in all the time. I would be happy if the older would just tolerate the younger. Any thought or help?
By Lindsey (Guest Post)
August 3, 2008
0

found this helpful
We have 4 cats, Buddy is the oldest male(3.5 yo), Dudu is the oldest female (3yo), Toby Joe is the baby boy (2.5yo), and Anni is the baby girl (2.5yo). The first three got along FANTASTIC with each other, however, when Anni came along, our oldest female Dudu would have nothing to do with her. They don't fight, but they will not play, sleep within 5 feet of each other, or groom the other. Which we found extremely odd because Dudu is the most lovable, sweetest cat, always wants to cuddle, and sleeps on either my husband's or my chest EVERY night.
If Anni comes along near Dudu, she will hiss at Anni, bat at her, and let her know she is not wanted around. After talking it over with professionals and reading up on the subject, we concluded that Dudu (the older, more established female in our home) considered herself top cat because of the sleeping situation. She slept right on/next to Mom and Dad, well when Anni came into the picture, she liked to sleep on Mom, too(still doesn't sleep on my husband, much to his frustration :o) ).
This is what ticked Dudu off. And still to this day, they've been living with each other for 2 years, Dudu won't give Anni the time of day. But, we were given the advice to give them their own sleeping areas outside of our master bedroom and to close our door and let neither of them sleep with us. Maybe, if your older cat sleeps with you, this could be tried?
By Tim (Guest Post)
November 9, 2008
0

found this helpful
Can anyone help with this? I have a 5 month old kitten that lived with my girlfriend for awhile, but around the same time that we moved the kitten to my house (She can't keep him at her apartments) I got a new roommate who had an older cat. We tried introducing them after a couple of days and they were not pleased. They both growled and hissed at each other, but then the next day I found that my kitten had gotten out of my room and the two cats had fought.
Now if we try to introduce them, they'll both just stare at one another and the kitten will growl, but if he tries to walk away the older cat attacks him. I am going to try the towel thing, but me and my roommates have all agreed that the kitten is terrified of the older cat, so I'm worried that this will make it much harder for them to get along.