Loki is a 2 year old German Shepherd. We got Loki when he was 12 weeks old. He has been absolutely amazing. He loves playing but managed to remain gentle with our young daughter.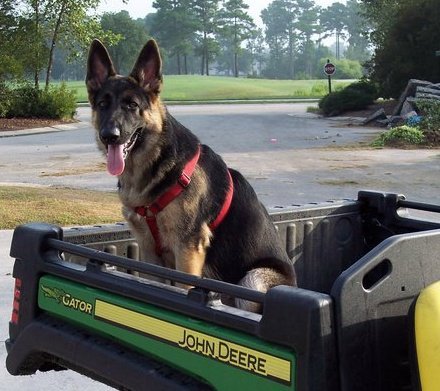 He started working on a private golf course when he was five months old (see photo). He's now two years old, and incredibly smart, loving, playful, and part of our family. If there's water involved, Loki is there. And as big as he is, he loves chasing bubbles. Yes, our big bully breed dog likes bubbles.
Loki often feels the need to alert us to potential dangers. My daughter and I were in our living room watching TV, when Loki came to me and started whining. He didn't stop until I got up and followed him into the laundry room. Our washing machine was burning out and potentially could've started a fire. Loki is our hero.
By berelain326 from Oshkosh, WI