Growing up in a family of 5 you didn't have to learn to be frugal, it was a given. A lot of our clothes were bought at garage sales and my mom even made some. Most new clothing was gotten at the beginning of the school year, Christmas and Birthdays.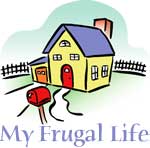 Cakes and cookies were usually homemade and meals of spagetti, goulosh, etc were big in our house. Anything that was cheap to make, went far and filled you up. Vacations were rarely taken. Camping was done a fair amount as it was inexpensive to do. But don't get me wrong, we had the things we needed, just not a lot of extras.
When I became a single parent with no support coming in from the "ex" and 3 kids I found myself being frugal once again and that has just become a way of life for me and ya know, I don't mind it a bit. I prefer to hit goodwill or a garage sale before I go to retail store to buy something. And if I can get something on sale and save a little money, I think that's a good thing! I have learned and taught my kids that you don't need the expensive things in life to be happy.
IMAQT1962 from ILLINOIS
Do you have a frugal story to share with the ThriftyFun community? Submit your essay here: http://www.thriftyfun.com/post_myfrugallife.ldml