Lola is a mixed breed. We adopted Lola from an animal shelter in July 2004. The animal shelter and her vet gave us their best guess at her age back then, so we estimate she is somewhere between 9 and 12 years old.
We chose her because all of the dogs were going crazy when we went back to look at them. They were barking and jumping at their kennel gate. Then we saw Lola and she was laying back in a corner of her kennel being so calm and quiet. The moment my daughter saw her, that was it. She fell in love with her and so did I, Lola became a part of our family.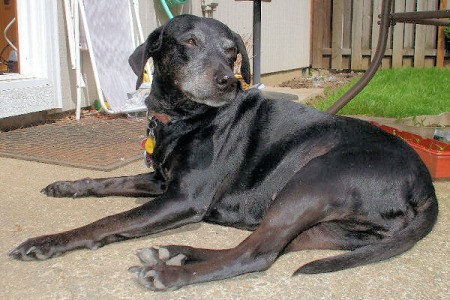 Besides going for walks, she loves to growl and "fight" with her bed, play with her babies and make them squeak, and play tag. The way my duplex is laid out, you can access the kitchen from one doorway and exit from another, if you want. You can go through the living room, down the hallway and back into the kitchen. When she "tells" me she wants to play tag, I will run into the kitchen.
She usually follows me around once or twice then the fun begins. I'll stop and get really quiet, and she will do the same thing. Then we each quietly try to catch each other. I usually end up saying, "Where did Lola go?" and then listen and change directions on her. We do this until one of us catches the other. Lola usually wins, but every once in awhile. I win.
Lola has a unique smile. When she's done something she's not sure she really should have she'll come and try and distract me and start giving me smiles just like a child might do.
She also loves to burrow. She's got a blanket that she likes to be covered from head to toe. She will work until she gets herself under the covers on my bed and sleep. Every once in awhile, she'll do the same thing with her bed. I'll get up and find her halfway under her bed.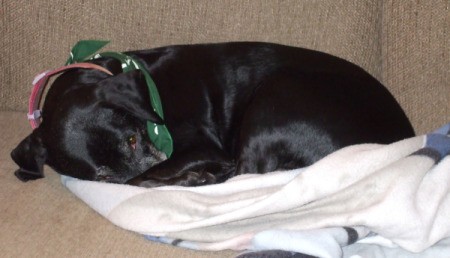 By DonnaJ from Tigard, OR