January 23, 2007
0

found this helpful
Well, you can cut out snowflakes, like the ones from elementary school. and hang them everywhere. Marshmallows, coconut flakes, even mashed potatoes. white foods, snowcones, hot cocoa is a good one too. for christmas I made little bags of snowman poop. it was just miniature marshmallows with a fancy ribbon. and maybe have those styrofoam balls, sitting around like snowballs. hope some of this helps
January 23, 2007
0

found this helpful
Beach Bum Snowman
This silly snowman is the coolest cat on the block. CRAFT MATERIALS:
Snow
Beach towel
Plastic sheet
Carrot stick (for nose)
Sticks (for arms)
Water bottle
Bottle cap (for belly button)
Sunglasses
Any other props you want, like umbrella, boogieboard, etc.
Time needed: Under 1 Hour
1. Whether the forecast calls for rain of shine, snowmen are vulnerable to the elements. An umbrella helps keep his cool smile from melting away. You could use other props as well: a boogieboard, perhaps, or even a snow castle.
2. Give your snowman a blissed-out smile with a bright red slice of apple. Slip on a pair of cheap sunglasses for eyes and use a carrot stick for a nose. His belly button is any appropriately sized bottle cap.
3. Just because he's made of snow doesn't mean he likes to lie in it! Provide him with a towel to lounge on, using a small brush to clear away any leftover patches of snow.
Tip: To keep the towel from freezing to the ground, lay a sheet of plastic beneath it.
4. Although we could have gotten fancy with snow-sculpted arms, our guy, a bit of a traditionalist, insisted on the tried-and-true forked-stick approach.
5. Always within grasp, our snowman's sunblock is the strongest he can get -- he knows the importance of protecting himself from the sun's powerful rays. On the opposite side, he keeps a bottle of water in case he overheats. (When he spritzes himself, it comes out as snow!)
THIS WAS FOUND ON WWW.FAMILYFUN.COM
TYPED IN SNOWMAN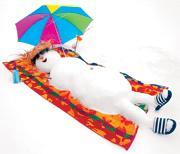 January 23, 2007
0

found this helpful
Yes, it did joggle my mind. I made the snowman soup a few years ago and forgot all about it. Also the snowman poop was given to me as a joke since i collect snowmen. This is an adult party so I am looking for some ideas for food as well as decorations. Thank you, G
January 23, 2007
0

found this helpful
This is an adorable idea. I am not sure I have time to make it for this year but I will print a copy for next year.
Thank you, G
January 23, 2007
0

found this helpful
Search on the Thriftyfun site for "Cute Peanut Butter Snowman Treats" for a cute little snowman snack. Also, have you thought about the little snowmen made from tube socks? They are either stuffed with fiberfill or I have seen them filled with dry beans.
By cindy (Guest Post)
January 27, 2007
0

found this helpful
marshmellow snowmen.
Marshmellows are the body and head icing to hold the parts together, pretzel sticks for arms gum drop hat- mini m&m eyes and buttoms, etc... can be made standing on a graham cracker.
By Georgeann (Guest Post)
January 28, 2007
0

found this helpful
Thanks to all that responded. I had the party yesterday and it was a huge hit. I had all sorts of decorations and candies and cookies with the snowman theme.
Even some of my guests brought there covered dishes in snoman dishes. Thanks again for the ideas. Georgeann
October 9, 2007
0

found this helpful
loved the idea of the party and the beach snowmon .i live in southamerica and the summer season is in december so will make as gifts for my friends .