March 27, 2007
0

found this helpful
Carrie,
http://ourldsfamily.com/wonderbox has a pattern, sewing instructions, basic recipes, and directions for using the Wonder Box.
I haven't used one yet but will make one soon, and so will several friends. We are looking for a good, thrifty source of polystyrene beads - hopefully with a quantity discount.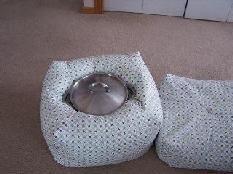 By guest (Guest Post)
February 14, 2009
0

found this helpful
I just found this while surfing a little further. The web site is at the bottom.
The Wonder Box
Ideally, if you have an alcohol stove, you have a Wonder Box insulated slow cooker to go with it. If you bring your stew to a boil over your alcohol stove and then put it into a Wonder Box and cover it carefully with its lid--six hours later, it will still be so hot that you will have to use hot pads to take it out. It has been cooking all of that time, and saving you fuel.
If the food has been hot and cooking all of that time, it did not need to be refrigerated. So you could cook your stew and eat it hot for lunch, then put it boiling hot, nestled down into the Wonder Box, and take it out still hot for dinner. No refrigerator needed.
The fabric must be 100% cotton to prevent it from melting from the heat of the pan. The pan must be one that has small handles on each side and it must have a lid. A pan with one long handle extending out from under the Wonder Box lid, will lose too much heat through the handle, and it will not work as well.
The Wonder Box is much like two small bean bag chairs, one being the lid for the other. You can get the pattern in a fabric store. The larger one is 24" in diameter and the smaller one about 16". You make it in sections, like orange sections, just the peeling part, made out of 100% cotton. Denim is a good fabric. Even old jeans stitched together would work. You stitch it together, leaving an 8" hole for turning. Turn it right side out and fill with seven gallons of Styrofoam beads.
Make the lid in the same way, using four gallons of beads. Don't let the static electricity of the beads bother you. Pin your seam, then try nestling a pan down inside to see if you have enough or too many beads. Sew up the seams, and you have a Wonder Box.
The Styrofoam beads can be purchased at stores such as Smith's grocery stores. They come in a four-foot long tube that holds enough for two Wonder Boxes, for about $15.00.
Nestle a covered pot of boiling food down into the Wonder Box bottom, and carefully cover with the insulating Wonder Box top. It is a good idea to put a layer of aluminum foil between the pan and the Wonder Box just to keep the Wonder Box clean. Let it sit for up to seven hours, and it will cook with no additional heat.
Whatever method you use to bring your food to a rolling boil before you put it into the Wonder Box, it can save valuable fuel in a time of no electricity or other services.