I call this photo Country Perfection because of the scene that bee gets to take in. Imagine, sitting atop the bright center of a gorgeous flowers, just people watching in the sun as butterflies and sweet aromas drift by you. Ahh, to be a bee!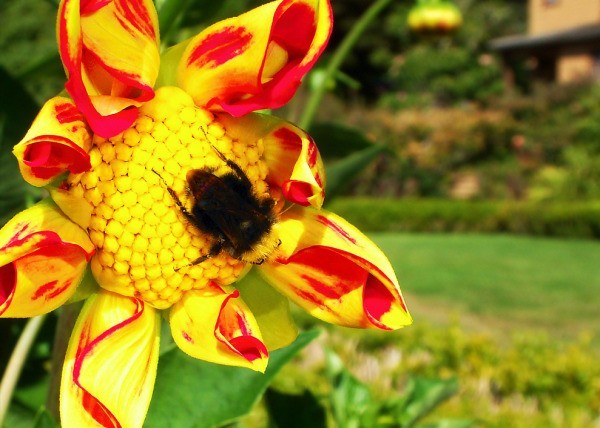 I ended up liking the framing of this shot, if it's okay for me to say so. I usually hate giving props to something I did, but couldn't have learned what that even meant if it weren't for all the amazing photographers out there with their forums, discussions, plethora of knowledge, and informational videos, so props be to them. (LOL) Anyway, I thought the framing was cool because you can catch a glimpse of the 'cottage' in the background. I love that place. It's the best when they open up during the Christmas season!
This photo was taken at my favorite state park, Shore Acres. This is one of the flower beds situated in the center of the garden, on gorgeously-maintained green grass. I thought these blossoms showed some creativity on God's part. Sure, not the craziest blossom on the planet, but, in my opinion, it's one of the most adorable. It's almost like He knows what the country atmosphere should be like and he wrapped it all up into one flower, hence the name of the photo :)
Anyway, I really hope you all are blessed with the chance to visit Shore Acres or a garden just as beautiful. Have a good one, all, and remember to smile today!
By Chelle152 from Coquille, OR