This cute craft is a great way to welcome spring. Have the kids help and use these balls to replace candles for a floral theme. It's as easy as just sticking fake flowers into a styrofoam ball and enjoy.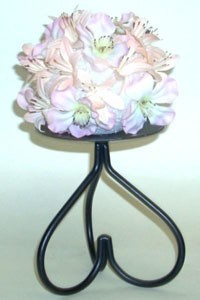 Approximate Time: 10 minutes
Supplies:
1 Styrofoam ball
assorted fake flowers
scissors
craft glue
Instructions:
Snip each flower off the stem, leaving a small point.
Drizzle a bit of glue on the point and push it into the styrofoam.
Repeat process until entire flower is covered.
This is a great way to use up old or left over fake flowers. If you don't have any on hand, try a local thrift store where you can get a variety on the cheap.
I made three of these balls, one from a 3 inch ball and the two others from 1 inch balls. I then set the balls out on my candle holders instead of candles.
You can paint the Styrofoam green before pushing in the flowers if you like. However, I preferred the crystal twinkle of the raw Styrofoam with my light beige and pink flowers.
By Aysha from Boise, ID