January 12, 2011
0

found this helpful
She is a beautiful girl! I had a dog name Sammie, a Lab mix, some years ago during a bad time in my life, too. Moving twice and a divorce.
Her fur absorbed lots of my tears and she was always there for me. That's the thing about pets, they love us no matter what. I always adopt dogs that need a good home and they never let me down.
January 12, 2011
0

found this helpful
Our pet friends are such a Blessing and they're always there for us with unconditional love! I love the name Zelda :-)
January 13, 2011
0

found this helpful
Zelda is a beautiful tabby, and for some reason, tabbies seem to be the most "understanding" of all the cat breeds. I think it might be because they themselves (as a breed) may have endured a lot. People at one time thought tabbies to be just "common old alley cats", but those of us who know different are the lucky ones.
They never stop giving and make wonderful pet companions.
I'm so glad you have her and hope that your life has turned around to the "happy side" now. God Bless you and Zelda both.
Pookarina and Sir Catty-Kit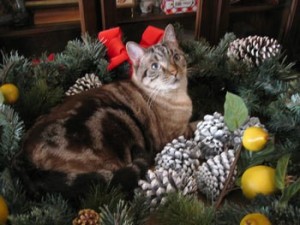 January 14, 2011
0

found this helpful
Hello Melanie,
You are so lucky to have Zelda, and vice-versa. She is a very pretty cat and looks like she is very wise. They know more about us than we know about them, that's for sure. Take care of one another.
Hugs,
Lee
July 15, 2012
0

found this helpful
She is beautiful! Looks like our cat Tango. He was a neighbor's cat who left him behind when they moved one cold November we finally caught him as he remained outside his old house waiting for his owners to return. We have had him for almost 3 years and we love him to bits!
We don't know much about cats as we have always been dog people and never really cared for cats. Tango has changed our minds about cats and we are now feeding a stray who comes every day for her meal but not too keen on making her way into the house yet. Perhaps by the winter she will come in and stay with us. Anyway, thanks for sharing your story and thanks for listening to mine. Good luck with beautiful little Zelda.