My frugal life has been going on ever since I was a young child. I began to save scrap paper to write and draw on. My family knew never to throw out any paper that was unused or blank on one side.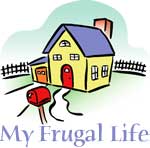 My mother's clothes became mine in a smaller version, she and my father were both excellent sewers. Jars were for my bugs and treaures, my room lined with Maxwell House and Ovaltine jars.
Of course I have moved on to bigger and better frugality, shopping thrift stores, garage , church and flea market sales. Always hunting down a bargain, like a cat stalks a mouse, except in my case, I am stalking the best deal I can find. Be it a winter coat or mini fridge, I am always on the lookout for whatever I or my family may need.
Now can you point me to the nearest garage sale.
By mm from Rochester, NY
Do you have a frugal story to share with the ThriftyFun community? Submit your essay here: http://www.thriftyfun.com/post_myfrugallife.ldml