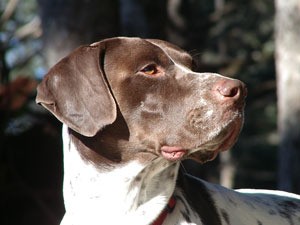 Breed Description:
The German Shorthaired Pointer is an all-purpose hunting dog with keen scenting abilities and is particularly suited for hunting grouse and pheasants. This breed is fast and agile and demonstrates power, endurance, and eagerness in the field. He has a strong personality, but adapts well to family life.
Group: Sporting Group.
Purpose of Breed: Hunting and tracking game
Country of Origin: Germany.
Average Size: Range from 21 inches to 25 inches tall and 40 to 55 pounds.
Color(s): Typically a combination of liver, liver and white (spotted or ticked) liver roan, or black and white.
Coat Type: The German Shorthaired Pointer has a coat that is short, dense, and hard to the touch.
Grooming: The German Short-Haired Pointer sheds very little and its coat requires only minimal brushing to stay in top form. This breed requires standard care for eyes, ears, pads, and nails.
Exercise Needs: This breed is best suited to country living or in an urban setting with a fenced yard and requires a lot of exercise to maintain both its physical and mental health.
Temperament: The German Shorthaired Pointer is a family dog, but it has a strong personality. This energetic dog needs lots of exercise to avoid getting frustrated. Its size and energetic nature can be too rambunctious for small children and its hunting instincts can at times result in aggressive behavior around other family pets. The German Shorthaired Pointer is considered to be an independent dog breed and should be given a challenging training program when young.
Common Ailments: Susceptible to hip dysplasia, epilepsy, gastric torsion, and entropion
Life Expectancy: Averages 12-14 years
Trivia: In the 17th century, German nobility and poachers prized German Shorthaired Pointers for their skills and ability to hunt at night.
More Information: German Shorthaired Pointer Club of America