R Barbara
Bronze Post Medal for All Time! 190 Posts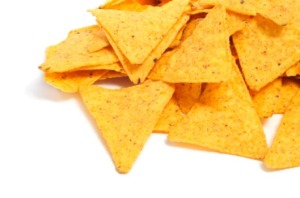 The DH was making himself a can of Juanitas Chicken Pozole and decided to add the broken tortilla chips at the bottom of the bag. He added a loose 1.5 - 2 cups and heated the soup on low for 45 minutes to one hour.
The result was a thick tasty pozole stew. What a good use for the bits.
By R Barbara from Bremerton, WA

When you get to the bottom of the chip bag and the tortilla chip bags there are always broken chips in the bottom. The broken potato chip pieces make wonderful casserole toppings, filler in meatloaf, coating for chicken and other meats for frying, etc.
Read More...

What do you do with the broken corn chips at the bottom of the bag? I'm sick of throwing them out into the compost. Sometimes half the bag seems to be crumbs. I've tried crushing them and adding them to my bread baking, but I don't like the final result. Any reasonable suggestions welcome. I'm basically a whole foods cook and this is about the closest I get to prepared food.
By susan cantin from Canada
Answers

August 23, 2009
1

found this helpful
I make Frito Chili Pie. It doesn't matter that the chips are crumbled up.
Frito Chili Pie
fritoes
chili
cheese
onion
Layer in ingredients into a casserole dish (size depends upon size you want to make). Bake in oven at 350 degrees F. until hot all the way through. My family loves it.

August 26, 2009
0

found this helpful
You can also use them on top of your favorite casserole dishes in place of bread crumbs! I use what I have on hand.
Crushed chips of any kind that I think will complement the dish, bread crumbs, or cracker crumbs of any type!

August 26, 2009
0

found this helpful
When my son was in primary school, the class made potato chip cookies. Unfortunately I don't have the recipe anymore (after 25+ years I don't know why!), but I'm sure it would be available somewhere on the internet. Hope this helps a little bit.

August 26, 2009
0

found this helpful
I grind them up in my food processor and use them like bread crumbs for breading fish and chicken.

Coreen Hart
Bronze Feedback Medal for All Time! 153 Feedbacks
August 26, 2009
1

found this helpful
Make chilaquiles. Heat taco sauce in a skillet and stir in the broken chips. When all is hot, top with a little cheese and allow it to melt. This works even if the chips are stale.

(Guest)
Gold Post Medal for All Time! 846 Posts
August 26, 2009
1

found this helpful
I know you're asking about recipes but I set mine out for the birds but you could also try using them in a salad instead of croutons ;-)

September 6, 2009
0

found this helpful
We have a restaurant here in Harrisburg, PA that serves a Cowboy Crunch burrito using the last bits in the chip bag:
12" tortilla, refried beans, brown rice (or white), meat (buffalo, chicken or steak), cheese, veggies (lettuce, toms, onion, jalapenos), Ranch dressing and chip crumbs. Fab!

September 8, 2009
0

found this helpful
Thank you one and all for these suggestions. There are so many. I think I have two winners: Jazalay and Cumberland. I am going to try these two first. :)

October 22, 2014
0

found this helpful
Eat them! That's is they aren't stale... if they are give them to birds, hand them to your kids to feed the birds at the park. Great for families to have fun!
Answer

this Question
Have some tortilla chips that are a little stale or some crumbs left in the bottom the bags? Here are some ideas for using those chips. Post your ideas.

Answers

April 6, 2005
0

found this helpful
Don't throw out those last few little pieces of tortilla chips left in the bag - put them in a plastic bag and freeze them for recipes. They work great in Mexican casseroles or tortilla soup!
By Susan
By Cindy in AL (Guest Post)
April 6, 2005
0

found this helpful
Mom always used to save the plain potato chip crumbs for topping on tuna fish casserole. We thought it was a treat.

April 9, 2005
0

found this helpful
Chips can go rancid because of the grease or oil used in cooking them. Either save them in the freezer or use them up immediately. patsAZ
By (Guest Post)
April 11, 2005
0

found this helpful
I put throw them into any Mexican-style soup or salad just before eating.
By Bridget (Guest Post)
May 10, 2005
0

found this helpful
Yummy taco salad ~ grab some lettuce a little leftover meat ( crumbled beef, chicken or even pork). I even love to add leftover rice & then sprinkle with cheese & tomatoes.
You can use most anything as your dressing - gravy, salsa or even your favorite salad dressing. Cheap ~ but very, very good :)

February 5, 2021
0

found this helpful
A meal I look forward to is using the crumbs from tortilla chips for breakfast (you could have this for any meal, though). I add the tortilla chip crumbs to beaten eggs - about a quarter-cup of crumbs to each egg but you can experiment for the ratio you prefer. More chips-to-egg ratio is a drier dish. I like to let the crumbs/egg mixture soak for about 5 minutes but you might prefer to let it soak longer or not at all. To that mixture I might add cheese, onions, bacon, ham, sausage, mushrooms, jalapenos, green onions, bell pepper, feta, tomatoes or just about anything else you might like. Dump everything in a medium hot skillet that has been greased with either butter, olive oil or bacon fat and cook to your desired level of doneness.
Answer

this Question
Any uses for those leftover 1/2 bags of potato/tortilla chips that NO ONE will touch after 2 days? Remember, camouflage is the KEY word here!
The family can't actually identify it as leftover chips in the resulting recipe.
Read More...