July 28, 2011
0

found this helpful
As iI write this, I am using 2 wine corks to prop up my laptop to keep it from overheating. I also put them on yarn needles to hold my work.
July 28, 2011
0

found this helpful
My husband took a missions trip last year to Iceland; he brought back bags of black lava sand, tan colored sand, lava rocks. I layered these items in the wine bottle beginning with the black lava sand, tan sand and the lava rocks that would fit in the bottle. I corked the bottle and tied a ribbon with the Iceland flag colors on it. I made a tag "Iceland Missions Trip 2010".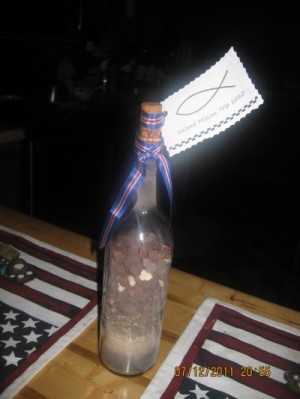 July 29, 2011
0

found this helpful
A friend of mine got a checker/chess board and upturned four blue wine bottles, gluing them on for legs! I don't have a shot, but I am sure E-6000 glue would work wonders, leaving it to dry 24 hours. You can still find glass cutters and make candle votives, glasses, and sun catchers out of them.
Good luck!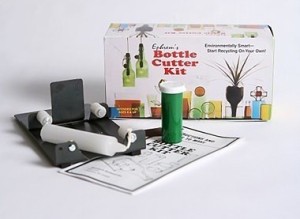 July 30, 2011
0

found this helpful
Hello, I use corks to put under a pot lid. I put the cork (corks) under the top handle of the lid so I don't burn myself when I lift it. Works great!
July 31, 2011
0

found this helpful
A friend of mine made a beautiful wreath made of corks with a beautiful ribbon brought through them and a bow. Also, I think a cork board made of wine corks would be very interesting.
July 31, 2011
0

found this helpful
If you have a lot of wine bottles, perhaps you can give them to someone who makes homemade wine.
Here is Saskatchewan, we can return them to the depot for a deposit, just like pop and beer bottles. Perhaps you should lobby your local/state government to bring in a bottle deposit to encourage recycling. There are only so many crafts one can use bottles for, although I have seen people make fancy fences and walls out of them, cementing them in like bricks.
You can make Christmas ornaments out of corks, angels and reindeer. If you have a lot of corks, you could donate them to a school or day care or Sunday school for crafts.