Keeping Track of Leftovers
Solutions
Share on ThriftyFunThis guide contains the following solutions. Have something to add? Please share your solution!
August 16, 2004
2

found this helpful
Don't you hate it when you clean out the fridge and have a bunch of leftovers from weeks gone by? One way to help keep track of you leftovers is to put a leftovers list on the door of your fridge. When you put something in there, write down what it is and the date. When you remove it, cross it off the list.
By Susan
I have been a wife and a mother for over 30 years. One of my biggest pet-peeves is to see perfectly good food (and lots of money) being thrown in the garbage because everyone is too "afraid" to eat whatever is in the plastic container found in the fridge. I have thrown out hundreds of dollars in the garbage of just tuna salad alone! We have tried labeling and see-through containers. We've tried writing dates with marker on the packages themselves. We have tried various things at various times throughout the years but nothing worked. My family was overly paranoid that the two day old tuna would kill them!
Finally, I had an a-ha moment and we came up with a system that works about 80-90% of the time. On the first of the month, we print out a calendar off the computer and put it on the side of the fridge with a marker that hangs by a string (just to make it as easy as possible for everyone). Everyday, we just jot down what we had for dinner or if we made tuna salad, opened a package of lunch meat, etc. This way everyone can look at the calendar and see how "old" the lunch meat or tuna is. We can also count back 3 or 4 days to see what should be eaten up before it goes bad.
This has worked like a charm! I rarely throw out more than a tablespoon of tuna anymore and it has really helped on the grocery bill. I am pretty impressed that at last, a tip that will work for even my family!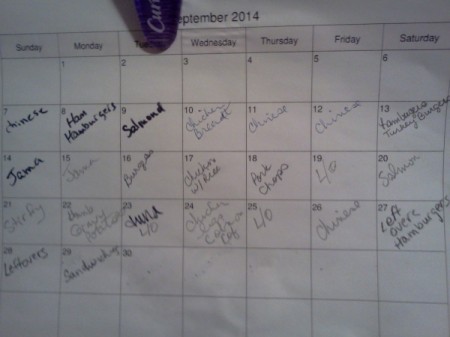 November 16, 2006
1

found this helpful
Leftovers usually need to be used first so create a space on the top shelf of your fridge just for leftovers. It will help you use them before they go bad and prevent moldy surprises when you clean out your fridge.
Also, try to use clear tupperware or glass jars for leftovers so you can see what is in them at a glance.
Since I live alone, when I cook an item of food or open a whole can, I put the leftover amount usually at least a cup in a l/2 pint jelly jar. I use a stick on file folder label or mailing label and I write the date and contents. Then when I prepare a meal for one, I look in the freezer to see what I have that I can combine with a meat, etc. to make a complete meal. It is very convenient and prevents a lot of food waste. The small jars sit on the door shelves of my freezer until needed.
By Draden from TX
One of my best food tip is to plan meals at least 2 weeks to a month at a time. Make a menu for each day and a dessert. This works well in using what you have and not wasting food.
Read More...
When it comes to storing leftovers in Cool Whip bowls, butter bowls, and even Tupperware (or Rubbermaid dishes), I am sure others have had the same problem in their household as I do.
Read More...
In order to make full use of the dibs and dabs of food you freeze for later use, it is vital that you label the container with what it is.
Read More...
December 2, 2005
0

found this helpful
When putting foods up after a meal or after preparing, be sure to label what's in the dish, the date prepared, whether you're putting in the refrigerator or the freezer.
Read More...
December 3, 2005
0

found this helpful
Methods for labeling food.
Read More...
Related Content