June 29, 2005
0

found this helpful
I made an apron just like that about 9 years ago when I was still in highschool. The pattern was very easy to follow, and I think it turned out pretty good for being my first sewing project! You can find the patterns at your local sewing store and then you can make it out of what ever material you want!

June 29, 2005
0

found this helpful
Karen,
Try looking on Ebay. I did a search there and typed in "old apron" and it brought up a lot of interesting aprons - made me want to buy some myself, although I don't normally wear them. If you don't sew yourself (or don't want to), there was a lady on there who makes them and sells them in her own "store".
There were also some listed that were just the kind that were from the waist down (not the bib kind). Hope this helps.
Trudy Powell
Independent Watkins Assoc. (i.e. vanilla, spices, extracts, liniments, salves, household cleaners, etc.)
www.mo3bk.com (read about home business)
By (Guest Post)
June 29, 2005
0

found this helpful
Try:
By mairmie (Guest Post)
June 30, 2005
0

found this helpful
I just made an old-fashioned style apron for my sister using Simplicity crafts pattern #5201. It doesn`t tie in back but "covers" really well. I made it from an old-fashioned type of print fabric(poly-cotton) to be permanent press. Hope this info helps
The pattern comes in sizes from Small to extra large.
By (Guest Post)
July 7, 2005
0

found this helpful
Some one had asked about an old fashioned apron, like the kind her grandmother used to wear. I couldn't find the requester, so I am submitting the information here.
Check out Lane Bryant,
1-800-248-2000, item # 6-54174-686.
http://www.lanebryantcatalog.com
Holly
By Mandy (Guest Post)
December 9, 2005
0

found this helpful
I would look in thrift stores in your area. I have seen several of these long type of aprons on sale there.
By Michelle in WI (Guest Post)
January 29, 2006
0

found this helpful
I'm not sure if you have found the apron you where looking for, but I think I found what you mentioned, except no ruffle on the bottom, only on the top arm straps.
PATTERN # M4729
"AMERICAN HOSTESS MOTHER AND DAUGHTER APRONS"
It Is Listed Under 'Out of Print'
"MOTHER/DAUGHTER APRONS" However, As I understand You can still Buy the pattern.
AMERICAN HOSTESS
McCALL'S FASHION ACCESSORIES
Here is the Link where I found it.
www.mccallpattern.com/.../accessories&page=1
If You choose to not pay there price, I too would suggest a garage sale search, or thrift shop search. Otherwise check out the various Action sites like e-bay, and yahoo....
Have a great day!
By sara@notyourmothersapron.com (Guest Post)
December 21, 2006
0

found this helpful
did you ever find the apron you were looking for? if not, i design and make aprons out of vintage material as well as new material. check out my website:
www.notyourmothersapron.com
i do design aprons and have some patterns from the 1940's that have the ruffles on the neckline.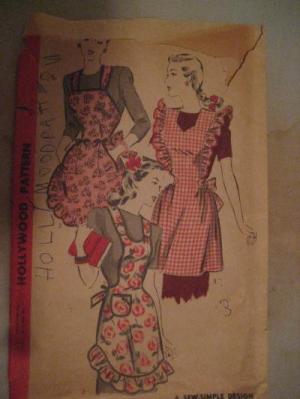 By Ruby in NH (Guest Post)
July 11, 2008
0

found this helpful
Karen,
If you have not yet found what you are looking, try Good Old Days magazine because they feature old-fashioned patterns. My grandmother wore a full body cotton floral apron that sounds like what you wanted.
I have seen the pattern but it's hard to find (looks like the ones Olivia wore on The Waltons). Here is a site you might like to try also:
www.cotton-picking.com/Aprons.htm