MOo-MOo is a boy cat. I'm not sure how old he is as I have tamed him from a wild alley cat. The poor fella was very sad and I think on his last legs, but not now! His activities include, lying around, lazing out, sleeping, eating, and pestering our other cat Stanlee (a girl cat). His like are sunny days, fuzzy pillows, nuzzling feet, being combed, and smelly cheese. His dislikes can be summed up with, rain, sudden movements, a lack of access to food (eats nearly anything), and the vacuum. Oh ya, where? In Vancouver Canada.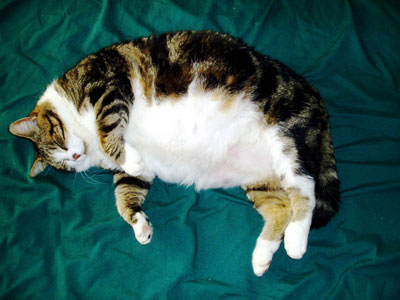 MOo-MOo Dreams of Mice and Cream
By Gordon
Here is a picture of Stanlee (MOo-MOo's would be girlfriend).