June 27, 2007
0

found this helpful
i went to a spa night for MaryKay once - and you could use some of the same ideas-
there was a station for hand softening - they used their product, but I have seen where you can use salt and mineral oil and massage your hands - then wash.
there was a manicure station - you could get some fun colors in little bottles from the dollar store
there was a foot massage / foot bath - just in a dishpan but really comfy chair and soft towels
Could do the same softening technique on feet that you do on hands
I would go the spa theme - soft colors, soft music, aromatherapy type stuff - for goody bags you could get shower poufs, small soaps and other goodies and wrap them all up in a large washcloth or finger towel.
Sounds like fun...
September 7, 2017
0

found this helpful
I had a surprise pamper party for my pregnant daughter. Got a beautician to come out & do mini treatments $5 -$10 for the guests which I paid for. Thr was a sugar scrun & aromatherapy hand wash in the restroom, we bought $5 toilet bags & filled them with pamper goodies which we had bought inexpensively in bulk. Lots of food, champagne and laughter!
By txcatlover (Guest Post)
June 27, 2007
0

found this helpful
One idea is to rent one or two "chick flicks" that ladies like and men don't. Have flavored hot teas to drink; maybe little chocolates. Candles burning that smell good.
June 28, 2007
0

found this helpful
Give each guest a 3x5 card and have them write something about your mom that they appreciate. If you want, you can provide colored pens or pencils to write with. You can also have them write about each other, if you're brave. A few loving words are the most pampering things around!
Cantate
By (Guest Post)
June 28, 2007
0

found this helpful
how about instead of using index cards,get an autograph book for everyone to sign and write something the like about your mom
June 29, 2007
1

found this helpful
I love to plan a party and especially when I can do it with little money.
I did a spa party for my sister's 53rd birthday and everyone had a great time. It was a girls night out sleep over.
For the decor:
I decorated with a soft aqua color (tablecover) and used a crisp white (napkins) as an accent for the food table etc. I played soothing music tapes and had a fountain going for relaxation and lots of candles. I got the candles and tablecovers at the Dollar Store.
I didn't have a large budget, but wanted flowers. So I had some pretty clear bowls, all different sizes, and filled them with water (lightly colored with food coloring) and floated white flowers in the bowls. I spread them out around the rooms. One large bouquet from Walmart went a long way. I had a small vase of flowers on the food table as well. I purchased a single rose and tied a ribbon around it for the guest of honor.
Each guest was asked to bring their own favorite (most comfy) robe, and slippers and also PJ 's. Since it was a "sleep over" I also asked that they bring a pillow and blanket, as I would not have enough and could not afford to supply them. I had an air bed and an air mattress, but some of the guest bought one along also.
For the entertainment:
When the guests arrived, I had a basket with terry cloth headbands to keep their hair back (theirs to keep as part of the favor) I purchased a few really bright shower caps and glued on some artificial flowers to make them as tacky looking as possible. Then I took each guests picture with the shower cap on as a "before" and also took a picture of them after their beauty treatment. I printed off the pictures on my computer before everyone left.
I also had purchased some inexpensive flip-flops for each guest. They got to decorate their pair of flip-flops. I had purchased some small, thin feather boas, rhinestones, sequins, beads etc for them to decorate with. We all had a great time being creative and came up with some "unique" looks.
I had a masseuse come in and give massages.
Before we started the massages and "beauty treatments" we tried our hand at belly dancing. None of us had ever tried it before. I got an instructional DVD (borrowed from a friend, but possibly you could rent one)- what a blast we had! Lots of laughs.
Because of the possibility of different skin tones, I decided against having everyone make their own facial mask. I purchased several different jars of mask for all skin tones and then dished them out to each guest in a small paper bowl. With the masks, I had thin sliced cucumber for our eyes and a sample size of moisturizer for each guest. You could do the same thing with the moisturizer if the sample sizes would not fit into the budget. Or buy one in a pump bottle.
I supplied nail polish in lots of fun colors (I found them on sale at a local store really cheap) but I am sure you could get them at the Dollar Store as well, for our fingernails and, of course, our toenails.
For the Food: I will send the recipes through on another post.
I served appetizers when everyone first arrived. I had poorman's or mock "crab" cakes (made with zucchini) with a mock remoulade sauce, tomato canapes and veggies with a low fat ranch dip (packaged).
Later we had Sesame Chicken strips with honey mustard dip, my favorite chicken salad tea sandwiches and a Panzanella salad.
Of course I could not forget dessert. I made Coca-Cola cupcakes -- very easy only 2 ingredients -- low fat and low sugar with Cool whip for icing and had a fresh fruit salad. But my favorite dessert were the slipper cookies -- just too cute!
With the appetizers, I purchased some sparkling cider (as we are not drinkers) and served it in champagne glasses (plastic because of the budget of course, but still fun)
I also served chilled water, in pitchers with slices of lemon and orange. This was cheaper than using bottled waters.
With the dessert I made Friendship tea - This was also my favor for my guests.
For the favor I packaged the Friendship tea mix in baby food jars (the larger ones) covered the lid with a pretty aqua floral fabric (luckily I found it in the clearance bin at Walmart) tied it with a thin ribbon and attached a card with the directions for making the tea. I put this in a bag (a white lunch bag purchased at Wal-Mart you get 50 for only a couple dollars) with a mini bag of microwave popcorn. I do computer crafting so I made a special wrapper for the popcorn. I folded the lunch bag over and with a razor knife, I cut small slits through the top and the wove a piece of color raffia through it and tied on a tag thanking them for coming.
Since the tea mix makes quite a bit, it was cheaper than buying lots of small bottles of lotions, etc. Plus many of my guests, including my sister have allergies to many fragrances. When they make the tea they can remember the great time we had
We had cleared room in our family room, and we settled in our "beds" and watched a favorite movie and I made each guest a bag of popcorn. We chatted well into the night and everyone had such fun. We all felt like teenagers again. (S;mores would have been good - but we were trying to be good)
The next morning I served my favorite sour cream coffeecake with more friendship tea and coffee before everyone headed home.
Hope this gives you some ideas.
February 20, 2016
0

found this helpful
Awesome!! Sounds like you had a lovely time
June 29, 2007
0

found this helpful
Mock Crab Cakes
2 cups grated zucchini, unpeeled (about 1 medium)
1 onion, finely chopped (or you can grated it also)
1 cup Italian bread crumbs
1 tablespoon mayonnaise
1 tablespoon Old Bay seasoning - this can be to taste, but do not substitute
1 egg, beaten
Mix all ingredients well. Form into patties and pat lightly in additional bread crumbs to give a light coating. Fry in Canola oil or butter until golden brown.
If serving as an appetizer for into small patties. You could also form them into balls and deep fry.
MOCK REMOULADE SAUCE  
Thoroughly mix
1/2 cup dairy sour cream
2 teaspoons milk
prepared mustard, to taste
2 tablespoons drained sweet pickle relish
1 tablespoon each chopped capers and parsley.
Refrigerate, covered, until ready to use.
Makes about 2/3 cup
Tomato Canapes Recipe
courtesy Paula Deen www.foodnetwork.com
3/4 cup finely diced tomatoes
2 teaspoons finely diced onions
1 teaspoon finely chopped fresh basil leaves
1/2 teaspoon The Lady's House Seasoning, recipe follows
1 package mini phyllo shells
1/2 cup packed shredded mozzarella
1/4 cup mayonnaise
4 tablespoons real bacon pieces, or more as needed (recommended: Hormel Real Bacon pieces)
Preheat the oven to 350 degrees F. Place the diced tomatoes in a colander. Sprinkle with the onions, basil, and House Seasoning, and toss to coat. Allow to drain, stirring occasionally. Fill each phyllo shell with a scant tablespoon of the tomato mixture. Stir together the mozzarella and mayonnaise. Frost the top of each shell with a scant tablespoon of the mozzarella mixture. Sprinkle each shell with 1/4 teaspoon of bacon pieces. Bake the filled shells for 10 to 12 minutes. Serve hot. These may be prepared ahead of time and refrigerated until serving time.
House Seasoning:
1 cup salt
1/4 cup black pepper
1/4 cup garlic powder Mix ingredients together and store in an airtight container for up to 6 months.15 serv
My Favorite Chicken Salad Tea Sandwiches
Very economical
 
I don't really have a recipe for this, but here is the method.
I buy a small chicken from Wal-Mart, usually only a few dollars.
Put the chicken in a pot with enough water to cover and add 3-4 chunks of celery and a medium onion cut in half (no need to peel)
Boil for about 2 minutes then simmer until chicken is tender. Remove chicken to a plate to cool and strain broth into a container or another pot.
Discard onion and celery.
Set broth aside for chicken soup or another recipe.
Once chicken has cooled, remove chicken from bones and chop fine (for tea sandwiches or chunks for salad over bed of lettuce.)
I usually have enough chicken to make the chicken salad and also a pot of chicken noodle soup or wedding soup.
In a bowl, combine chicken, mayonnaise and about 1/3 to 1/2 cup of sour cream (depending on amount of chicken used)
Add finely chopped fresh onion and celery - add as much or as little as you like.
Season with salt and pepper and poultry seasoning to taste. The poultry seasoning gives this salad great flavor.
Place 1 scoop (1 tablespoon) chicken mixture in center of bread slices, spreading slightly. Top with remaining bread slices. Remove crusts using a serrated knife. Cut into four pieces either in squares or triangles Use marble bread, rye or pumpernickel for a different look.
Panzanella Salad
6 cups bread, torn into pieces (2 days old, preferably with a dense texture)
1 lb ripe tomatoes - lightly seeded - cut into chunks
1 lb mozzarella cheese, cut into small chunks
1/2 cup basil, fresh, finely cut
5 tablespoons flat leaf parsley, finely cut
2 garlic cloves, minced
5 tablespoons red wine vinegar or (preferably balsamic)
1 cup olive oil
1 teaspoon salt
1 teaspoon pepper
In a large salad bowl, whisk together vinegar, oil, basil, salt and pepper. IN PLACE OF THE VINEGAR AND OIL - I JUST USED MY FAVORITE ITALIAN SALAD DRESSING. Add bread, tomatoes, and onion. Toss until everything is well coated. Serve.
   
Sesame Chicken with Honey Dip
1 1/2 cup mayonnaise, divided
1 Tbsp. onion, minced
1/2 cup seasoned bread crumbs
1 lb chicken breast, skinless, boneless, poached and cut crosswise into 1/2" strips
1 Tbsp. Dijon mustard
1 tsp. dry mustard
1/4 cup sesame seeds
2 Tbsp. honey
Preheat oven to 425 degrees. In a medium bowl, combine 1/2 cup mayonnaise, dry mustard, and onion. Mix to blend. Add chicken strips and toss to coat. In a shallow bowl, toss bread crumbs and sesame seeds to mix. Roll chicken strips in breadcrumb mixture to coat.
Place in a single layer on a baking sheet and bake for 10 minutes until lightly browned. Meanwhile blend remaining 1 cup of mayonnaise with the honey and the Dijon mustard. Serve as a dipping sauce with the chicken.
I saved time and poached my chicken for this dish with the chicken for my sandwiches.
Slipper Cookies
from: jas.familyfun.go.com/.../display?id=40952
These are too Cute!!! 
RECIPE INGREDIENTS:
2 halves of an oval sandwich cookie
1 doughnut hole
frosting
shredded coconut tinted with red food coloring
pink decorators' gel
1. To make a pair, first separate the 2 halves of an oval sandwich cookie (we used a Cameo) and remove the filling with a butter knife.
2. Next, slice a doughnut hole into thirds. Coat the rounded sides of the 2 end pieces with frosting (you can eat the middle piece), then roll them in shredded coconut tinted with red food coloring to create a pair of fuzzy slipper tops.
3. Use a dab of frosting to stick each slipper top to a cookie sole, then adorn the edges of the cookies with pink decorators' gel stitching.
Amazing Diet Soda Cake
Quick and Easy!!
1 box chocolate cake mix (can use Pillsbury lower sugar mix)
1 can diet Pepsi (or Coke)
Cool Whip (optional)
See instructions below for cake - but I made mine into cupcakes.
Variation:
Ingredients:
1 boxed cake mix
1 can diet 7up
Cool whip (optional)
Instructions:
Spray 13 X 9 cake pan with Pam. In large bowl, mix together both ingredients. Carbonation will make it expand. Pour into pan and bake as directed on the box.
Try diet orange soda with white cake mix - or lemon cake mix with 7-UP - You are only limited by your imagination.
Friendship Tea Mix recipe
1 (18 ounce) jar Tang breakfast drink (orange flavor)
1 cup granulated sugar
1/2 cup presweetened lemonade mix (such as Countrytime)
1/2 cup unsweetened instant tea
1 (3 ounce box) apricot Jell-O
2 1/2 teaspoons ground cinnamon
1 teaspoon ground cloves
Combine these dry ingredients and store in an airtight container. This recipe makes 50 servings-about 5 cups, so it is perfect for dividing up and giving away as gifts. Put these directions on the gift jar: Friendship Tea: Use 1 1/2 tablespoons per cup of boiling water.
CINNAMON NUT SOUR CREAM COFFEE CAKE
Filling Ingredients:
1/2  cup firmly packed brown sugar
1/2 cup chopped walnuts
1 1/2 teaspoons ground cinnamon
Coffee Cake Ingredients:
1 1/2 cups sugar
3/4 cup butter softened
3 eggs
1 1/2 teaspoons vanilla
3 cups all-purpose flour
1 1/2 cups sour cream
1 1/2  teaspoons baking powder
1 1/2 teaspoons baking soda
3/4 teaspoon salt
Heat oven to 350ºF. Combine all filling ingredients in small bowl. Set aside.
Combine sugar, butter, eggs and vanilla in large bowl. Beat at medium speed, scraping bowl often, until creamy. Reduce speed to low; add all remaining coffee cake ingredients. Beat until well mixed.
Spread 1/3 batter into greased and floured 12-cup Bundt® pan or 10-inch tube pan. Sprinkle with half filling mixture. Repeat with batter and filling mixture. Spread remaining 1/3 batter over filling.
Bake for 50 to 65 minutes or until toothpick inserted in center comes out clean. Cool 10 minutes; remove from pan.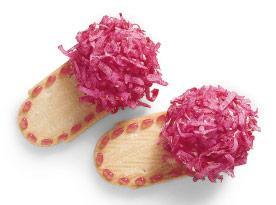 June 29, 2007
0

found this helpful
You could do something with photos. Maybe even just lay out favorite ones or whole photo albums and go through them and share memories. If you have sisters or are close with some of her friends, you could put together a sort of "this is your life" thing sharing stories and memories. Sounds like a lot of fun! Enjoy!
By Crys (Guest Post)
November 20, 2008
0

found this helpful
You can set up candles, Fountains, Chocolate Fondue Fountain (w/strawberries), Champagne Fountains, Masseuses, Different Stations (Hair, Nails, Facials, Make-Up, etc...)
January 12, 2010
1

found this helpful
I am a nail technician/Esthetician and I actually have my own Pamper Party business in Pittsburgh, PA. I take sugar scrub as favors for each of my parties. The recipe is: 1 cup ground oatmeal, 1 cup brown sugar, 1 tbs honey and 3/4 cup grapeseed oil, and then I spoon into small glass jars. Grapeseed oil is kind of expensive, so regular vegetable oil works fine, but don't use olive oil; the smell is way too strong.
You could do a make-your-own scrub bar where you put out the jars and a bunch of different ingredients such as brown sugar, white sugar, oatmeal, salt, vanilla extract, honey, and oil and let them make their own scrubs. The idea to to mix oil w/dry ingredients until it looks like a slushy.
Another cute idea would be to get some plain terry cloth slippers from the dollar store and use fabric scraps, fake flowers, tissue paper, sequins, rick-rack, buttons, ribbon, glitter, and any other craft supplies you have around to let them make their own pair to take home.
A third idea is to let them do their own fruit and yogurt facials. 1/2 a mashed banana, 3 tbs plain yogurt, and a squirt of honey makes a great moisturizing mask, and shouldn't irritate even the most sensitive skin. I use this in the Princess Birthday parties on girls as young as 4. They could mix their own and then apply to themselves or each other.
As for decorations and atmosphere, I would use fabric draped curtains in the doorways (use warm soft colors such an mint green, lavender, pale pink, beige, etc..), just by using a spring rod and fabric from the $1-per-yard rack or curtains you already have and use fake flowers or ivy to decorate, light relaxing scented candles like lavender or sandalwood and play very soft music. This is similar to the decor in the spa I worked in. Luckily for you, in the spa world, less in more. Good luck and have FUN!