My House (And Bank Account) Have Never Looked Better!
A few years ago, I was out a job from my third oil company layoff, and decided to move from Houston to Galveston to get away from big city blues. That saved me a lot right there - moving to a smaller city, only an hour away! But there were fewer jobs here, all vastly lower paying, so I had to economize. Here are some of the things I did:
Air conditioning is a must for 6 months of the year, a 1 bedroom apartment with a den can cost up to $200 a month to cool. I bought a $75 cooling fan with a water wick that rolls from room to room (Target has these) and gradually installed flat fans in windows. These are portable and cool about 700 square feet by up to 12 degrees F. I also noticed that tourist shops on the Strand here use over-door fans with a blast-jet of air as you're coming in and leave their doors wide open all summer. It circulates the humidity at the door and cools that store about 10 degrees.

My peak cooling season electric bills are now only about $60-$75! I just use the A/C during really sticky, still periods to cool down the place and rid the humidity so the fans work better.

Also, gradually replace overhead and outdoor lights with those coiled energy-saver bulbs - try your $1 store for deals.

Boil a chicken weekly with nice herbs. Remove the skin and feed it to pets. Make a generous salad, or several, or chicken casseroles and eat throughout the week. (For a family, it might take 2-3 chickens.)
Buy minimal, basic cleansers: Ammonia, bleach, baking soda, and a good detergent. There's not much you can't clean with these few things.
Go to a thrift store and buy up junky old fabrics for rags to save on paper towels.
Create a coin jar and watch it grow. I last counted mine at $40! Also, set aside $5-$10 a week when you can in an old cookie jar or other hiding place. That will grow fast too.
Haunt any local consignment shops, dollar stores and thrift stores, as well as garage and yard sales, often. You would not believe the beautiful wardrobe I've assembled doing just this, and I have found many useful housewares in good condition, too. I almost never buy anything at full price anymore!
Get a bike and do short local errands that way (attach baskets, of course!) You'll get good exercise and save a bundle on gasoline, as lots of start-and-stop short hops really consume the most gas.
Finally, keep a notebook documenting how much money you save doing these things as a morale-builder. Once living frugally becomes a habit, it's almost a hobby, it's so much fun. My house (and liquid bank account) have never looked better!
By Barbara from Galveston, Texas
Do you have a frugal story to share with the ThriftyFun community? Submit your essay here: http://www.thriftyfun.com/post_myfrugallife.ldml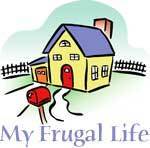 Add your voice! Click below to comment. ThriftyFun is powered by your wisdom!
By guest (Guest Post)
May 31, 2006
0

found this helpful
The chicken is a great idea. I am always trying to find ways to get my family to eat less hamburger (it's their staple food) and more healthy foods. I also appreciate the thought on keeping the notebook to see your progress...that will really help me stay motivated!
Thank you, thank you, thank you!!
June 1, 2006
0

found this helpful
Dh and I considered retiring in Galveston (this is years off in the future). Would you recommend it?
June 1, 2006
0

found this helpful
The fans with the wicks are called Evaporative Coolers. Here in Idaho, we call them Swamp Coolers and they are a MUST! We have an extremely low humidity level here in the high desert, so they work better than air conditioning and are MUCH more cost effective. Also, they don't force you to hermetically seal your home to keep the cool in - you DRAW the air where you want it to go by opening the windows just a few inches.
Great frugal ideas!
June 2, 2006
0

found this helpful
This is a lot of great advice. I try to be better about spending and not wasting money. I buy lots at garage sales. I always say, you can find almost anything you want at a garage sale and if you wait long enough! My kids have beautiful wardrobes and most of it was bought at garage sales! Well as a matter of fact, I'm off to the sales!
October 8, 2012
0

found this helpful
Some good advise but I don't think I'd feed my dog the pet skin. But that's just me.
October 8, 2012
0

found this helpful
I said pet skin, lol. Of course I meant chicken skin.
Add your voice! Click below to comment. ThriftyFun is powered by your wisdom!
Related Content
In This Guide
Categories
Guides
More
Categories