January 11, 2010
0

found this helpful
Best Answer
I have made these bricks for about 2 years. They are great gifts and sell well too.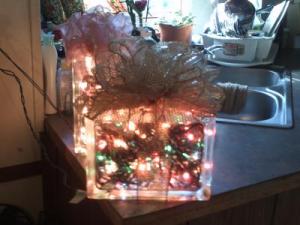 January 12, 2010
0

found this helpful
Best Answer
I know you asked this question several months ago but I have been ill and not able to get on line for some time now. I'll attempt to answer your question in case no one else has. Lighted glass blocks are exactly what the words say. It's a glass block typically used to build a "privacy wall" in your bathroom. A hole is drilled in the block to allow access for a string of lights to be inserted. Some people use pictures on their blocks, some use a variety of decorations and some just use ribbon or any combination of these.
The results are an outstanding decoration! They make fabulous gifts. I don't know anyone who has received one that didn't truly treasure it. I'll attach some photos for you so you can get some ideas of what you might like to try to make. Have fun making these beautiful crafts. I can only upload one photo at a time so I'll send another response to you with a different block.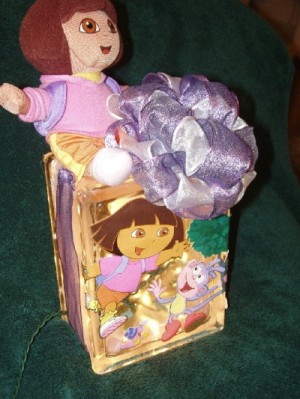 January 12, 2010
1

found this helpful
Best Answer
Here's another photo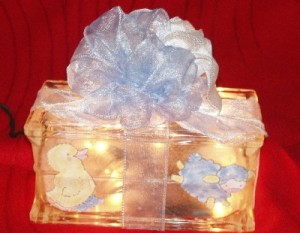 January 12, 2010
2

found this helpful
Best Answer
One more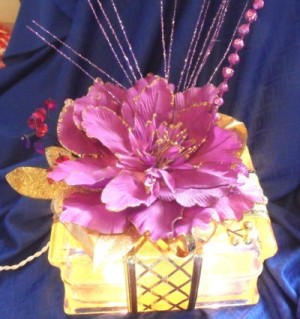 By Mommy Newsom (Guest Post)
October 12, 2007
0

found this helpful
Look on this site under "glass box Christmas decoration" and you will find LOADS of great pics and instructions.
October 13, 2007
0

found this helpful
Here's the link on this site... be sure to look down the page for more ideas that people have posted.
By CraftyMomma (Guest Post)
November 12, 2007
0

found this helpful
You can purchase these glass blocks in Canada, Home depot sells the 6x6 for apprx $6 and RONA sells them for about $5 for the 6x6. The diamond drill bit at Rona is apprx $12 - you're good to go...I had never made these before. It took me about 20 mins to drill 4 blocks. The sets of 30 lights work wonderfully, used multicolored lites. Nice Christmas gifts!
September 23, 2008
0

found this helpful
I have just found about 50 glass blocks from a building being destroyed. About half are still attached to at least some blocks - all have mortar.
Anyone have suggestions for removing the mortar without damaging the glass? Thanks!
November 21, 2009
1

found this helpful
Here is just one that I made. Some of them I have sold and some were given as gifts.
They are a great hobby.