September 4, 2008
0

found this helpful
This is so cute!! I have a small room that really needs a window,,I wonder if it would work with a small nite light behind the frame??
By guest (Guest Post)
September 4, 2008
0

found this helpful
I love what you did, I have wanting an old window for my porch, now I know I have to find one. God Bless
By guest (Guest Post)
September 4, 2008
0

found this helpful
JUST WANTED TO SAY WHAT A GREAT IDEA....IT IS SO CUTE... YOU HAVE MUCH TALENT....BONNIE
September 4, 2008
0

found this helpful
Very, very nice. You are talented.
Have you thought of selling these on eBay?
September 4, 2008
0

found this helpful
I don't sell them on ebay due to breakage just fabric items I make. But I do sell them at carft shows in our town when they come or flea markets at times. I have posted other ones on here that I have painted christmas scenes on before and now I'm working on ones for the fall & halloween days ahead. Here are some I did in the peanuts charachters just this last weekend. These are more detailed and take awhile to do to let paints dry and such then I put on like 4 coats of clear spray to protect them. You don't have to limit them to just walls. You can sit them at an entrance way to greet guest for seasonal themes and even outside like putting a light source behind them and letting them be viewed at night from the road or when treaters walk up.Or in front of your fireplace as a pretty look. And I paint on old window shutters to in the same manner for the same uses. I did snoopy & woodstock on that one and a crow on the fall one.
The lady who ask about the light just told me she thought of using the small battery christmas lights in them which I love the idea of. I will be trying that as well, so thanks for that idea! Also you can see the differant looks you get by using each side on the window after just painting on the one side. I like both really. But I always paint a theme on the top of the white side and add more painting scene there, and I clear seal both sides of the glass just so it last for outside use longer. One lady who bought from me a garden scene one was getting it to hang in her outside garden as though it was floating in air. I guess she was going to do that with fishing line to hang it. I had not thought of that use but it too would be pretty. You can find old windows in yard sales or at the recycle centers ours are $2 each any size and it does not matter that the paint is peeling for I feel it adds to the charm of it besides my clear coat spray covers it too. You buy that at walmart for $1 per can clear coat spray in a can. thanks folks :-) I'm no artist I just love to freehand in my own way with what I see. Just thought you all might like to try it and as I say even if you do not paint those rub ons work just as good, just clear spray them real good if its going to be outside. God Bless Julie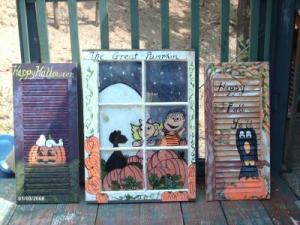 September 4, 2008
0

found this helpful
here is how the other side looks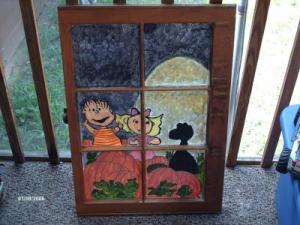 September 9, 2008
0

found this helpful
So cute and creative! I especially love the "Great Pumpkin" windows!
Unfortunately I can not draw a stick figure :( so mine just wouldn't be the same. You have a God-given talent!
By guest (Guest Post)
September 10, 2008
0

found this helpful
Hi - those area awesome! Thanks for the inspiration. I have some frames I picked up a few years ago to do just that, but haven't got around to it! Did you use special paint made for glass, or regular acrylics? Thanks again!
September 13, 2008
0

found this helpful
I use acrylic paints on them. The little bottles sold in walmart or craft stores, made by differant compainies but I like the ones made by apple barrel which sell for 44 cent each. And when the finished window or shutter has dried completely I spray at least 4 coats of clear coat spray on each side. Also works great doing the same technic on mirrors too. If you have an old barn, work shed, ect these look wonderful hanging on the outside just to add intetest to your buildings wall. The shutters are more challenging to paint on beciase of all the slanted sltes but the effect afterwards is very pretty. And you can embelish with things like bows or pinecones in the corner even lights drapped across them. And remember those who do not paint can use rub ons they work well, and still cover them with clear coat when finished. Give it a try, you will be happy with your results. ;-) Julie