October 14, 2008
0

found this helpful
Best Answer
According to my vet, cat food has more calories than dog food and that's why they like it. Most terriers are pretty hyper to begin with, so they probably burn the calories off better than other dogs; at least our Jack Russell Terrier does. What you might try is to mix the cat food with the dog food for a couple of weeks, then slowly wean the dog off the cat food - using less each week - until he's completely off the food.
Our dog would eat the cat food, but I keep it on top of the clothes dryer. The dog food stays on the kitchen floor and many times the two cats will help themselves to the dog food too.
By Ellie (Guest Post)
October 15, 2008
0

found this helpful
Best Answer
My understanding is it's the reverse. Cats should not be fed dog food, which some are tempted to buy because dog food is often cheaper.
Cats have more complex needs than dogs, and dog food doesn't give them the nutrients they need. Dogs can eat cat food on an emergency basis, but should not be fed it as a regular thing.
October 13, 2008
0

found this helpful
We had a cockamation doggy several years ago. Her name was Dawg. I don't remember the circumstances under which I learned that she liked Alley Cat but she loved it. I used it as a treat maybe once or twice a week. I fed her dry dog food the rest of the time. Using it once in a while didn't hurt her but, like you, I was concerned about daily feeding. You could dress up your dry dog food with some table scraps or leftover soup to make it taste better.
October 13, 2008
0

found this helpful
I've been told it's not good for dogs in the long run because cat food is a different mix of nutrients & usually has some ingredients to help prevent/pass hair balls that can be unhealthy for dogs.
Dogs will eat anything if they get hungry enough. Just don't let him/her have access to the cat food. Cesar Milan has good advice on teaching your dog healthy attitudes towards food, pets.yahoo.com/.../four-common-mealtime-mistakes
My dog is always famished after exercising & they should be exercised every day.
Make sure that it isn't a cavity or infected tooth though with your vet if he's preferring soft foods over hard.
October 14, 2008
0

found this helpful
Is she eating this on her own, or is she stealing the cat's food? Sometimes dogs eat the cat's food because they don't want the cat to get it. They don't really prefer the taste -- they are just jealous or greedy! LOL
October 15, 2008
0

found this helpful
Yes, it is bad. It's like letting your children eat french fries every day. Just because he likes it more, doesn't matter. He'll eventually get hungry enough to eat whatever you put in front of him, but keep that cat food away! It's not healthy! The answer above about the Cesar Milan Dog Whisperer information is right. Make sure to check that out!
-Lee in Florida
October 15, 2008
0

found this helpful
Cats and dogs have different nutritional needs. Cat food is made for cats and dog food for dogs. I know they can have allergic reactions which can be very serious. Stick to the dog food. Your dog will eat when she's hungry. She won't let herself starve.
By BookBabe (Guest Post)
October 16, 2008
0

found this helpful
Yes! A few years ago, my dog had to be rushed to the vet and given 15 injections of liquid. She was severely dehydrated. The reason? She had been eating the cat's food, which I now put up on the clothes dryer like another poster. The vet bill was high - thank goodness she has pet insurance!!
October 23, 2008
0

found this helpful
My rat terrier isn't the only one eh? LOL...she eats the cat's food every chance she gets! It's in the bathtub but sometimes we forget to put it back in after baths. She gobbles it up.
But the cat loves the dog's food also (caesar which is softer) so have to watch them both. Sometimes I think they just want a change. Take care, grammar
By Jay (Guest Post)
February 8, 2009
0

found this helpful
My Maltipoo likes cat food more than dog food and my cat does not like that what should I do!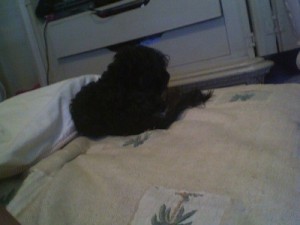 By Kim Las Vegas, NV (Guest Post)
February 14, 2009
0

found this helpful
my mother in~law feeds my dog (molly) cat treats and wet food ever time we go to her house. I under stand that she whats to spoil her grand pup but it makes her sick. Cat's and dog's are different and we should respect that
March 9, 2009
0

found this helpful
I have a rat terrier almost 17 yrs. old that prefers our cat's food to her own...even though both are dry. At her advanced years she is missing some teeth & can't chew dry too well. So...I tried buying chicken broth at our local grocery store & put enough in her dog food the just cover the dry food.
I also warm the broth slightly before mixing with food. Now she gobbles up her own food & pretty much stays away from the cat's. Same is true with our 4 year old long-haired chihuahua.
June 16, 2009
0

found this helpful
While some dogs can survive solely off cat food and do fine (my mom had a Pomeranian that did), it isn't recommended as many dogs can react VERY badly to it. My dog, Sandy, was fed a can of cat food every morning when we first got her because it was cheaper (I find it funny someone said dog food is cheaper. I think it's the other way around). It literally tore up her system. Luckily, we caught it before it did permanent damage. But, we learned our lesson and right after that, All our cat food eating dogs were switched to dog food. If your dog doesn't like kibble, why not try canned?
October 31, 2014
0

found this helpful
We have been told NO!! by 3 Vets.
Dog food for dogs and cat food for Cats PERIOD.
One even said some cat food could cause cancer in dogs. Of course some dogs do like cat food, but they also like CHOCOLATE,which is also bad and even dangerous for them. Why take a chance?
After a full year we finally found a dry food "Boo" will eat. It has cost a small fortune trying different brands, But he has almost eaten 1/8th of this 4.5 lbs.bag.The name is Sweet Potato and Fish Formula for Small Breeds By Dick Van Patten's Natural Balance. We are grateful to have finally found something he will eat every day even if it is just 30-35 little pieces a day. GG Vi