Ayudame is a 1 year old cat. Our Labrador found a wild kitten on our property early one morning, bone thin, weak and mewing pitifully. Lulu circled the kitten with loving concern and threw into the air an unusual series of barks.
When I went out to check what was up, Lulu kept dashing looks at me as if asking, "Can we keep her, can we, can we?" We already had three cats, but what the hey. We named her Ayudame, Spanish for "help me".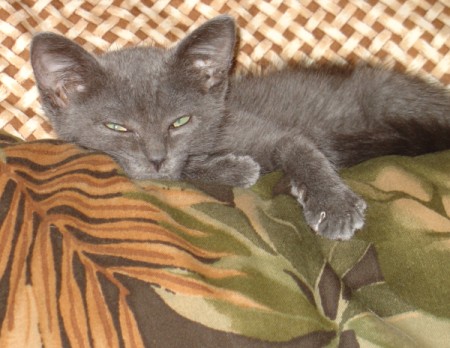 We took her to the vet, no issues were found except needing some meat on her bones. Ayudame took care of that by guarding and gobbling her food like a king of the jungle, but that behavior continues to lessen as she learns to trust her next meal will be coming. Ayudame's coat is a dark gray, but when the sun shines on her the tips of her hairs shimmer in a silvery light show.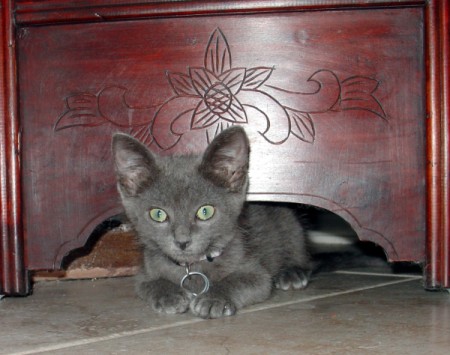 I offer two photos from when she joined our family and one photo of her a year later. She obviously needed to grow for those big ears to fit properly. Ayudame is crazy about our Jack Russell Terrier and is slowly winning shy Mimi over with endless applications of loving, walk-by rubs. Lulu, the lab, protects all of her cat children so much that if one meows about anything, I am immediately alerted.
We live on a ranch in Texas, about an hour's drive north of Mexico. There are so many cats and dogs, especially kittens and puppies, dumped in the countryside. It makes our hearts sad to think about the helpless and hopeless plights those animals go through.
By Simply Susie from TX