As the leaves begin to put on their fall colors, crafters look for new ideas for fall crafts to decorate their homes and give as gifts. This is a guide about autumn craft ideas.
By Benetta 223 119
Use a pattern of a leaf and fall colors to create a card that would be ideal for a friend celebrating her birthday during the Fall season.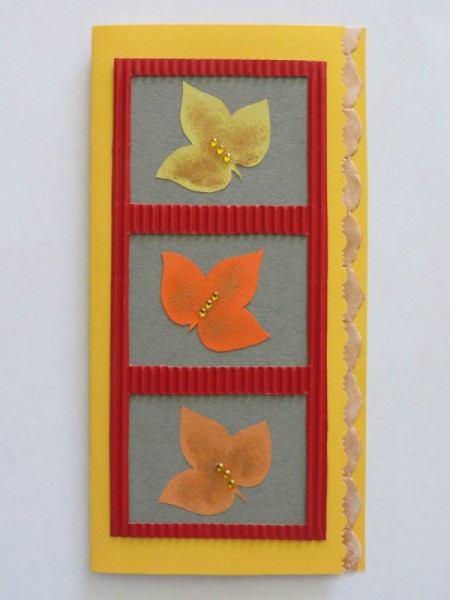 Approximate Time: 20 minutes
Yield: one card
Supplies:
provided pattern of leaf
8.2 x 8.2 in dark yellow cardstock
7.1 x 3.1 in charcoal-colored cardstock
7.1 x 3.1 in red corrugated cardstock
7 x 7.6 in light yellow sugar paper
small pieces of light yellow, light orange, and dark orange sugar paper
1 paper lace tray liner
9 small yellow-colored flat-sided rhinestone beads
bronze-colored gilding paste
a sponge ~ use one that was inside a medicine bottle
quick drying glue
pencil
ruler
pattern edged scissors
Gingher embroidery scissors
Steps:
Fold the 8.2 x 8.2 inch dark yellow cardstock in half to create a card 8.2 inches x 4.1 inches.


With the fold at the left, cut the front right edge with the pattern edged scissors.


Center and glue the charcoal-colored cardstock to the front of the card.


Trace and cut three leaves ~ one each from the light yellow, light orange, and dark orange sugar paper.


Use the embroidery scissors to turn the red corrugated cardstock into a three-opening frame


Glue the red frame in place over the charcoal-colored cardstock.


Glue the leaves in place ~ the dark orange leaf in the middle, the yellow one at the top and the light orange one at the bottom.


Cut a strip with a length of 8.2 inches from the tray liner.


Use the sponge and a small bit of the gilding paste to add a vintage look to the strip cut from the tray liner, as well as to the three leaves. Allow to dry thoroughly.


Glue the strip from the tray liner to the inside of the card.


Fold the 7 x 7.6 inch light yellow sugar paper in half and glue to the inside of the card to write a message.


Add three yellow rhinestones to each leaf.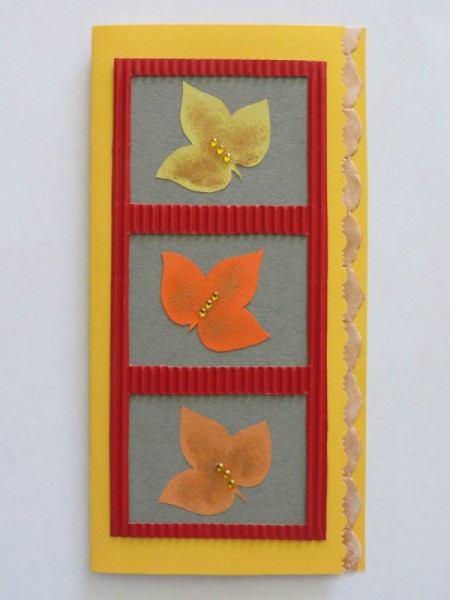 This is a 2 part project. I made a magnet and cookie/candy party favor.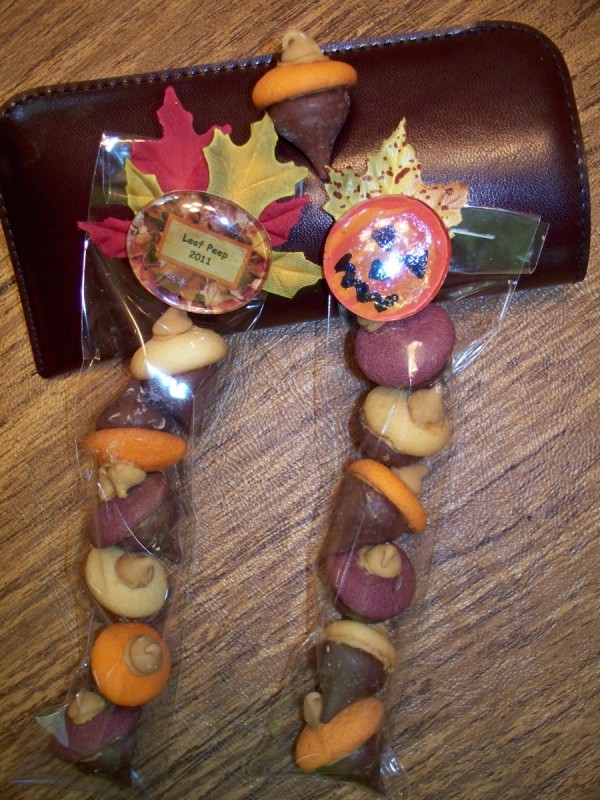 Approximate Time: varied
Supplies:
glass flat-back marble(s)
alcohol
printer or acrylic paint
photo paper - if printing design
white glue
hot glue
small magnets
faux leaves
Hershey's Kisses
mini vanilla wafers
peanut butter morsels
peanut butter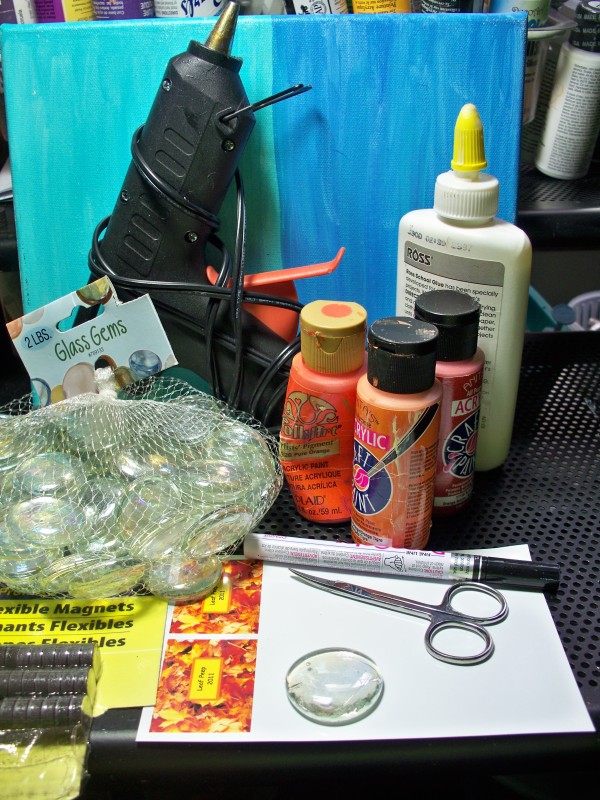 Instructions:
I made 2 kinds of magnets. The first is a painted design: jack-o-lantern and the second a photo design leaf pattern.
Jack-O-Lantern
Clean glass marble with alcohol.
Paint facial features, eyes, nose, and mouth of jack-o-lantern in black.
When dry, paint accent lines in a dark orange.
When that's dry, paint the entire back with 2 coats in a lighter shade of orange.
When dry, use hot glue to affix leaf and magnet.
Photo Design Leaf Pattern
Clean glass marble with alcohol.
Print out picture or use one from a magazine or other source. I used a leaf background and added text for my event. My text was set at 7 points font for the name, Leaf Peep 2011. I used inexpensive photo paper and printed it on the back side so there wasn't too much ink. I printed out individual squares, as many as I needed or as fit on the page.
Wait until the ink is dry.
Apply white glue, and place flat side of marble on top. Let dry overnight. If back of paper is damp, turn over and let that side dry as well.
Cut excess paper off around marble.
Use hot glue to affix faux leaf (optional) and then a small magnet.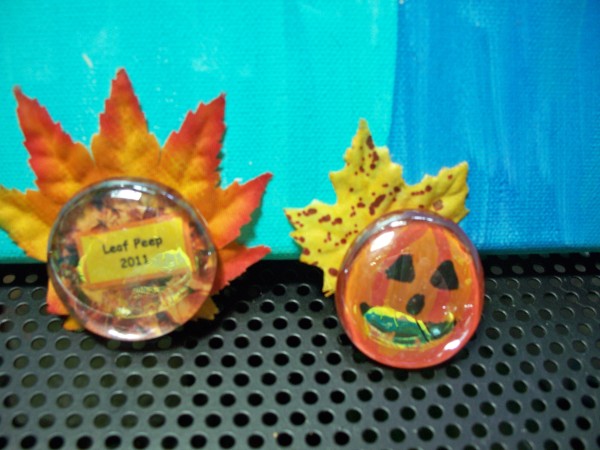 Instructions for Cookie/Candy Favor:
I assembled the "acorns" using mini vanilla wafers. They now come in fall colors...yay!
Unwrap Hershey's Kisses.
Adhere to mini vanilla wafer with a small amount of peanut butter.
Adhere a peanut butter morsel to the top with peanut butter. It should resemble an acorn.
I had cello bags on hand that I used for pretzel rods, and they were the perfect size to drop the cookie/candies in. I used a glue dot to stick the magnet on the package of cookie/candies. You could also just used folded up adhesive tape.
It was a very low cost project and I think it is going to be a really cute favor to hand out at my luncheon.
By Toni N. from Saylorsburg PA
Create some adorable pins to wear during the autumn months in less than an hour. With just a few supplies and a little stitching and gluing, you can make several to sell or give as gifts. You can also make them as magnets or to add to a wreath.
Approximate Time: 1 hr.
Supplies:
felt- assorted colors
artificial autumn leaves
twine for scarecrow
pin backs
material scraps
small amount of stuffing or cotton balls
misc. trims
glue
needle and threads
Instructions:
Leaf Pin
Begin by making the base for the pin. Choose 2 leaves of different shades. Remove any plastic stem and veins by peeling them off. Overlap leaves (see diagram) and glue together.
Take a piece of felt slightly larger than the leaves and glue them on to this. Cut around leaves, leaving a slight border of felt showing.
Glue pin backs on when pin is completed.
Ghost
Cut 2 ghosts from white felt using pattern.
If choosing to use beads for eyes, sew them onto face of one piece.
Sew bodies together and insert a tiny amount of stuffing. Continue sewing until closed.
Tie ribbon or thread around neck and a small red felt heart on to tummy.
Sew ghost on to leaves.
Embellish more, if desired (see photo).
Pumpkin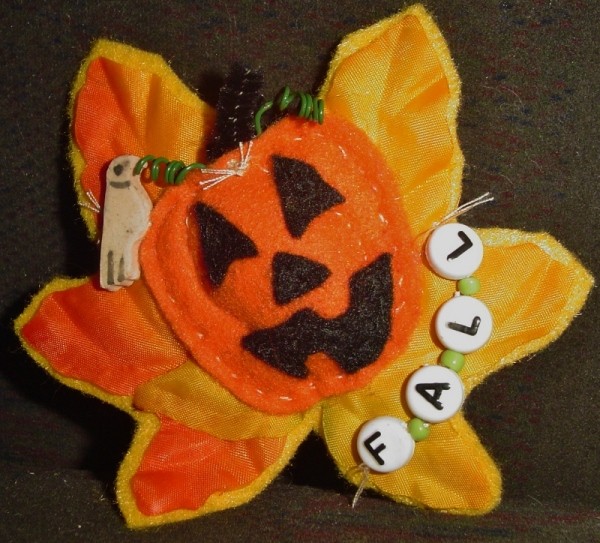 Cut 2 pumpkin shapes from orange felt using pattern.
Cut facial features from black felt and sew onto one pumpkin piece.
Cut a piece of pipe cleaner and wrap wire tightly around one end. Fold end of pipe cleaner into loop to hold wire. Insert at top between the pumpkin pieces and stitch top closed, being sure to catch the stem and wire into your stitches to secure. Continue sewing and insert a tiny amount of stuffing.
Finish sewing until closed. Follow dotted lines on diagram and stitch through entire pumpkin for slight indentation.
Sew pumpkin on to leaves.
Wrap wires around a toothpick to curl.
Embellish more, if desired (see photo).
Scarecrow
I used a finger of a jersey glove, but you can make a small tube from material or felt. Since my glove was dark brown, I chose to make a circle from tan felt for the face. I sewed the facial features on to this circle. I inserted my finger into the glove tip and sewed the face on to it.
The straw is made by unraveling twine. Place hat pieces on top of head, sandwiching the top of the head in between. Sew across brim, inserting twine as you go. As you sew the rest of the hat closed, scrunch up some areas and tack them along the way.
Stuff the head and tie a strip of material around the neck, tucking twine under it as you go. Tack into place to hold twine. Unravel the bottom edge of the body for a more rustic look. I had some patterned material and cut some pictures from it for the sign and sunflower.
By Mary from Palm Coast, FL
Autumn-hued folded paper leaves are linked together to create a garland. Make a leaf and center leaf template from a piece of cardstock. Fold 11 x 6 inch piece of paper in half crosswise. Place the leaf template on the folded edge of paper.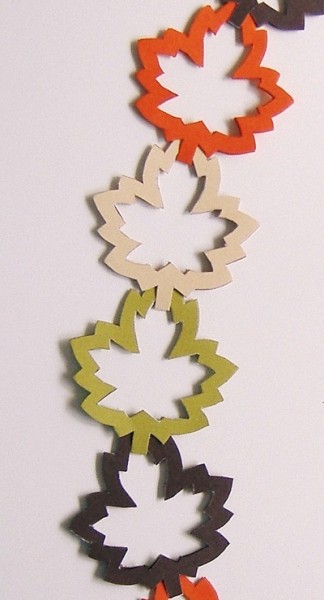 By Benetta 223 119
Using fall colors, and a cutout of a leaf, one can make an elegant birthday card for a friend, celebrating her birthday during the fall months.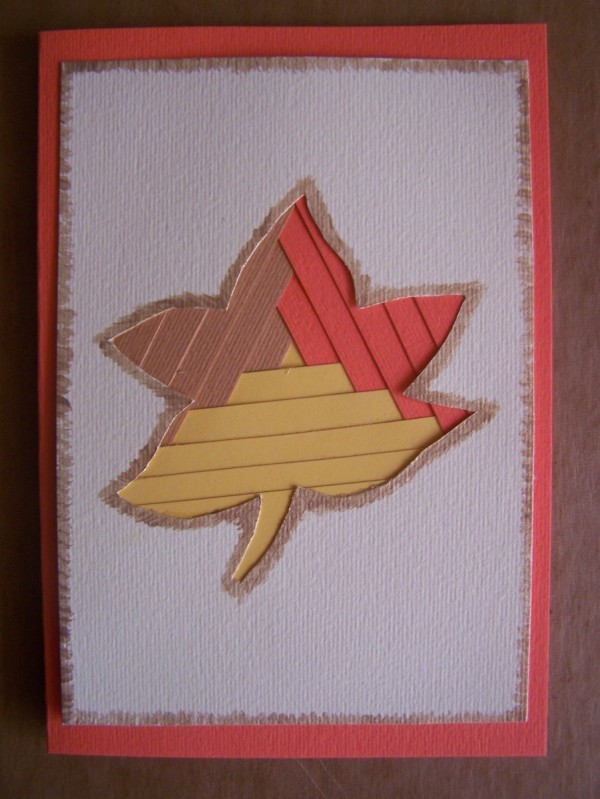 By Sandi/Poor But Proud 467 2,136
I had some carpet tubing and tubes from crochet thread. With some hot glue, fabric strips, and silk flowers, I made a unique planter - of sorts!
I wrapped plaid fabric around horizontally and glued it about every 6 inches. Then, I chose four of the five colors in the plaid, and wrapped the tubes vertically. If I ever make this again, I will do them horizontally as well, as it uses half the fabric and time.
Once the tubes are all covered, I hot glued them off-center of each other for a staggered look. Then, I simply put some fall foliage and faux plants in for a nice planter for the porch. You can use fabric that matches a room inside the home and use any kind of flowers or plants you want.
This craft needs to be protected from the elements, so you'll need to find a safe place to display it. Perhaps a corner by the door, or on a shelf?
I had a lot of fun with this and hope it inspires you to make something similar.
By the way, the cords behind the planter are strung from the porch to the shed and have nothing to do with the planter. I just didn't have anywhere else to shoot it.
By Sandi
By Sandi/Poor But Proud 467 2,136
The cover over a wooden or cardboard frame is crocheted with ribbon and buttons.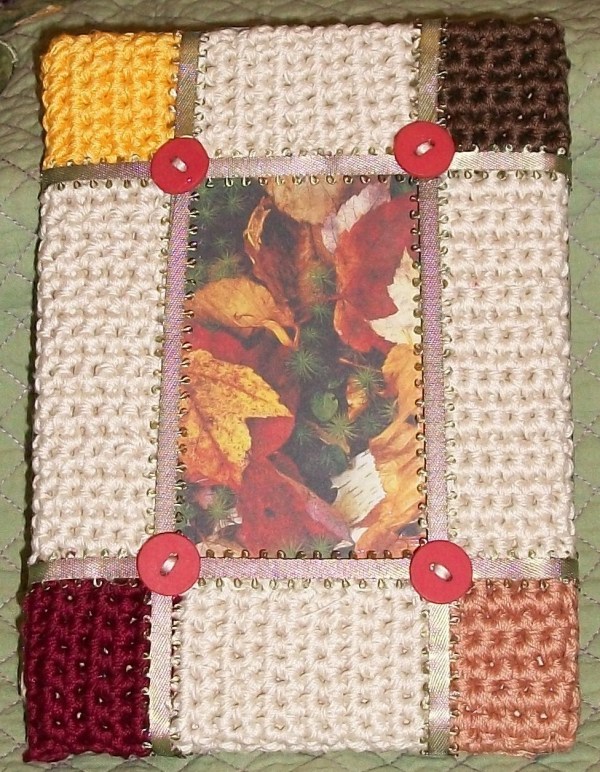 These placemats will be perfect from September to November. The bright clean fall colors will go great with any natural centerpieces or you can find beautiful silk mums and fall leaves this time of year.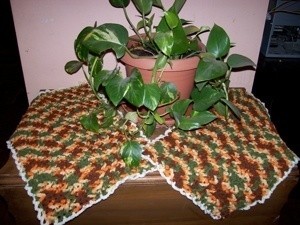 By Teri M 23
First off, grab a vase or large jar that can fit the leaves you have chosen. I went for a large mouthed, tall, skinny vase, but any jar would do as well.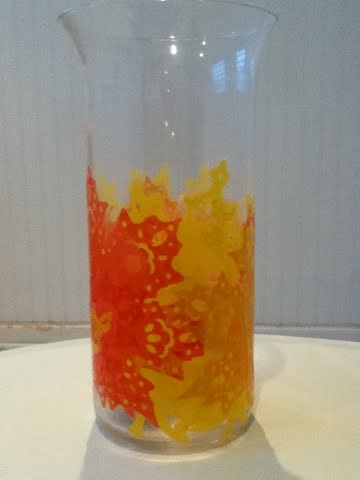 By Erin813 25 67
Fall colors wearable in 3 ways!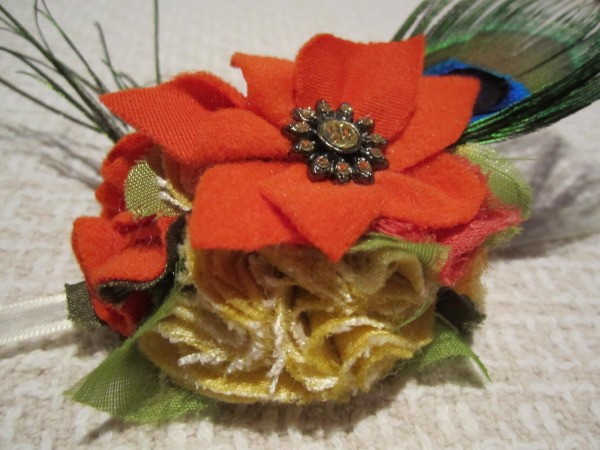 By Aliesha 6
Does anybody have any good crafts for Fall? Thanks.
By Eeshieking
Most Recent Answer
By melody_yesterday 228 663 Flag
October 1, 2009
I enjoy going out into the yard with a roll of clear tape (narrow or wide) and gathering leaves that will fit the width of the tape & placing them onto the tape along whatever length I want it to be.
I have even pulled up tiny flowering plants from down in the grass & used them as well as leaves & flowers root & all.
When finished take it inside & top the first piece with another piece of clear tape to sandwich your leaves/plants/flowers in the middle!
The ones with roots look really interesting.
If you get leaves with holes that's OK - it makes "lace" !
Place your project in the window so the light will shine through it & enjoy a little outside indoors!
This will last quite awhile!
By diane0514 6 6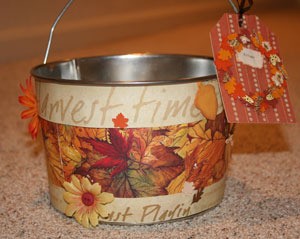 Fall/autumn apple pail. Decorate tin pail with paper and stickers for autumn theme, fill with apples, caramels, and popsicle sticks and give as a gift. Caramel apples are a great way to celebrate fall.

By Diane from Leesburg, VA
Fall candle holder made from every day items. First, glue the clay pot upside down onto the dinner plate, then glue the butter bowl bottom side down on to clay pot then glue saucer onto butter bowl.
I would like fall craft ideas that are not for kids!

Jann from Union, OR
Feedback:
RE: Fall Crafts For Adults
Go outside and gather acorns. Use them in mason or ball jars to wedge candles down in for a centerpiece. (10/02/2008)

By
RE: Fall Crafts For Adults
Many things can be made from pine cones so why not start collecting them now and making wreaths, fire starters, miniature x-mas trees for decoration and of course, ornaments for your tree. Good luck. (10/03/2008)

By Lisingreece
RE: Fall Crafts For Adults
I took all my leftover fabric, cut it into 2 inch strips, sewed the ends together, plated it (as in hair) then made a nice rug. I used a large needle and strong thread to sew the plates together to lay flat on the floor or the back of the couch. They are very pretty. (11/29/2008)

By kffrmw88