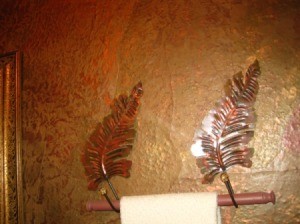 To create an unusual decorating effect, try using brown paper bags in place of traditional wallpaper. This is a guide about the brown paper bag wallpaper technique.
Ad
---
Solutions: Brown Paper Bag Wallpaper Technique
Read and rate the best solutions below by giving them a "thumbs up".
I live in an old home and many times the plastered walls have cracks in them. Here is an alternative if the cracks keep showing up soon after you paint. I "papered" my walls in brown paper and rosin paper that have been painted.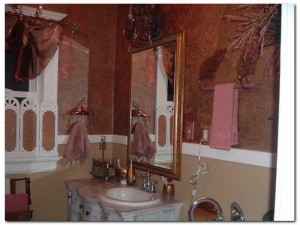 I wanted to go with a copper theme and have always wanted an elegant bathroom so I took pieces of brown craft paper and tore them into irregular pieces, saving some of the ones with a straight edge for where the ceiling and the wall meet. I then crumpled them all up very hard and then semi smoothed them out so that you could clearly see the wrinkles in them.
I used a sponge brush and brushed on copper leaf paint on some, barely touching the surface of the wrinkles and then used gold spray paint on others. Let them dry (doesn't take long at all) and then apply them with wallpaper paste. The wall should be sized first.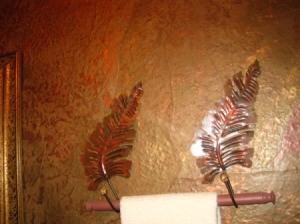 I already have a claw foot tub and my kids inserted a sink into a dresser that I faux painted and applied copper paint stenciling. I had rough plastered walls so the roughness of the walls added to the dimension of the treatment. My curtains are copper colored and I made a shower curtain with some copper color in it and put copper colored beading on the edges. I painted the bottom of my claw foot bathtub brown.
By Elaine from Belle Plaine, IA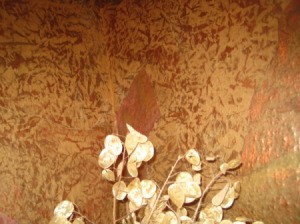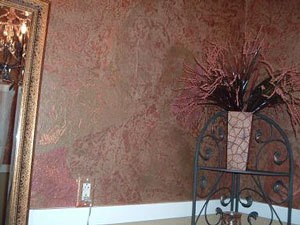 The walls in my bathroom were not in super good shape when I bought my 100 year old house, they had the old bumpy type plaster. After several attempts at painting, I finally came upon a solution.
I took both brown craft paper and red rosin paper (both available at home improvement stores) and tore it into uneven pieces, keeping some of them with a straight edge to put at the top of the wall where it met the ceiling. I then took them and crushed them between my hands really good and opened them up again, revealing the wrinkles. At this point smooth them slightly, but not very much.
Then, before I applied it to the wall, I spray painted some gold and used copper leaf paint on others (I bought the copper leaf paint at Wal-mart). I used a foam brush dipped in the copper leaf and very lightly drug it over the creases so it just hit the top of the creases. I let it dry and applied it with wallpaper paste. When it was all done, I applied a coat of water based polyurethane over the top.
I get more compliments on this room than any room in my house. I have a clawfoot tub and a vanity made from dresser. I also have chandeliers in there that adds to the glamor.
By Elaine from IA
Editor's Note: Here is Elaine's dresser vanity:
Do I need to prime the wall first if I am using the brown paper bag technique and do I put anything on top of the bags to seal the wall or coat them like a glaze or something?

Pat from Mansfield, MO
Give a "thumbs up" to the solution that worked the best! Do you have a better solution? Click here to share it!
Questions
Here are questions related to Brown Paper Bag Wallpaper Technique.
I am currently looking to brown paper bag the walls in my living room. Can you tell me if you can do this procedure over existing wallpaper?

Julie from Cameron, TX
AnswerWas this interesting? Yes No
Ad
---
---
Most Recent Answer
By Dana B. 1 07/24/20150 people found this helpful
I used this technique in my entry. There were over 4 layers of old wallpaper. I chose to remove because they were lifting. If your wallpaper is in good shape, it should be ok. But I'd suggest sizing it first.
---
I want to do the brown bag wallpaper treatment on my wall. Can I use wrapping paper instead?
By Cindy
AnswerWas this interesting? Yes No
Ad
---
---
Most Recent Answer
By Elaine S. 39 243 11/11/20110 people found this helpful
Sorry, I thought you meant craft paper not wrapping paper. I got mine at Walmart but I think the $1 stores have it too.
---
Can you use construction paper or even a wallpaper picked up at a thrift store for brown bag wall treatment? I can't find colored paper, only mauve and brown. I want green. What bond paper is acceptable.
Also, it was mentioned about Draw Tite. I can't find it anywhere and the address given is non existent. I do however see that others have found it. I have five cats and a parrot and need to know if the Draw Tite is odorless. Also there is another product called Gripper. Anyone familiar with that? If so is it comparable to the Draw-Tite?
I am also confused (normally lol) about the edges? Do I overlap around the corner? I know I will have a zillion more questions, but for now, please help.
By Kali from RI
AnswerWas this interesting? Yes No
---
Most Recent Answer
By kali 1 2 07/23/20100 people found this helpful
Hi Laniegirl,
I have been in awe of the work you did on this wall. Actually by accident I clicked on the wrong thing when I was saving it to my pics and it is now the background on my computer. lol.
LG, How did you do this wall? I mean it looks so beautiful and I am wondering how you knew where to put certain colored paper. Did you spray paint some of them? Gosh this is so exciting. I have everything I need. Only thing is that after searching for days and miles I had to settle for an equivalent of the GH 34. I hated to do it but had no choice. Are there recommendations for the way you did this?
Thanks,
kali
---
Do you put the paste on one side or both sides of the paper?
By Juanita T. from Junction City, AR
AnswerWas this interesting? Yes No
---
Most Recent Answer
By Louise B. 6 2,525 04/01/20140 people found this helpful
You would only put paste on one side, so it would stick to the wall.
We are replacing the shower, shower walls, and floor in one of our bathrooms. Looking around it is going to cost more for the shower walls than the oversized tub/shower we want, because of the odd size. I am wondering if the paper bag wallpaper is water tight enough to be used "in the shower" as the walls. I want to do the floors that way also. So, I guess what I'm asking is, can I do the floor and the walls "inside" the shower, without danger of water damage?
By Angie from Modesto, CA
AnswerWas this interesting? Yes No
---
Most Recent Answer
I covered one of my kid's room walls with brown kraft paper. Though it looks good, since it is a kid's room (boys), something looks missing. The curtains in the room are of a dark green color with gold leaves. Can someone please suggest what can be added to this wall to make it look good of a boy's room.
By R from India
AnswerWas this interesting? Yes No
---
Most Recent Answer
By cybergrannie 32 882 03/06/20140 people found this helpful
Hi - it would be very helpful if you could add a couple of photos.
I bought my home with one of the bathrooms done in brown paper bag; I love it. But above the shower it got wet and part of it is coming up, how do I fix it? And how can I clean a spot on the wall?
By Tina P. from KY
I just wanted the most up-to-date information and instructions for the brown paper bag wall treatment. I have walls that have groves, dips, and I don't want to hassle with all the drywall stuff. I think this is an awesome way to make your walls look like they were done by a pro, and very expensive. Thanks in advance for your help!
By Marjorie
I did my office walls using this technique (brown paper bag wallpaper) two days ago. What do you suggest as far as using as a stain to give it more depth and also, (the biggest question) what do you seal it with? You mentioned thinned varnish. What do you thin your varnish with? My walls look great so far, but they really need to be finished. Thanks so much!
By Carrie
Archives
Thrifty Fun has been around so long that many of our pages have been reset several times. Archives are older versions of the page and the comments that were provided then.
Makes it look like a leather or suede look. It's fantastic and if there is a spill or a piece is damaged later you can just add a piece.