Clothing is Bleeding Onto Itself
When washing clothes, colors may bleed. This guide is about how to prevent or fix color transferred on pieces of clothing.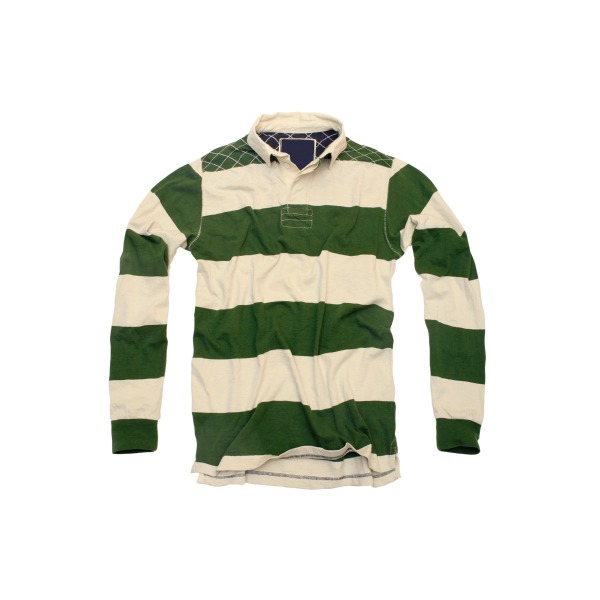 Filter

: All Articles
Sort

: Relevance
My daughter's dress's background colour has run on to the main colour. What do I do?
I have a silk shirt which is black and white stripe. On the label it said wash in cold water which I did and the black has run into the white. Is there anyway I can fix this?
Thanks.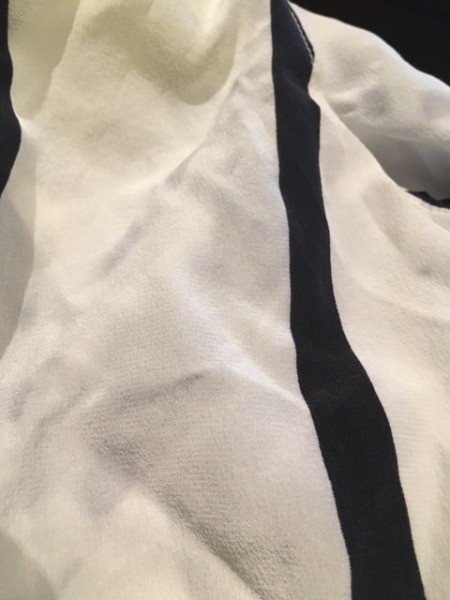 March 18, 2016
0

found this helpful
My shirt is silk and it says not to use on silk, also I live in
Australia and haven't heard of the product.
March 19, 2016
0

found this helpful
Always try to keep receipts and buy from stores that allow returns in cases like this. You followed the rules, after all. Even if you were able to fix this somehow there's no guarantee it wouldn't happen again the next time you wash it.
A shirt that isn't washable isn't usable, so get the store to reimburse you.
I have a white lace dress with a black zipper. It says dry clean, but I washed it in cold water. The dye as come from the zipper onto the lace dress. The dress is just lace no underskirt so it's see through. How can I get the dye out? Please help.
I am in need of help. I have a white polyester blazer with black lapels, and the black has transferred onto the white in patches that look purple all over the blazer. Is it possible to remove the purple patches without disturbing the black lapels on the blazer? I haven't even been able to wear the blazer yet.
Any feedback is appreciated.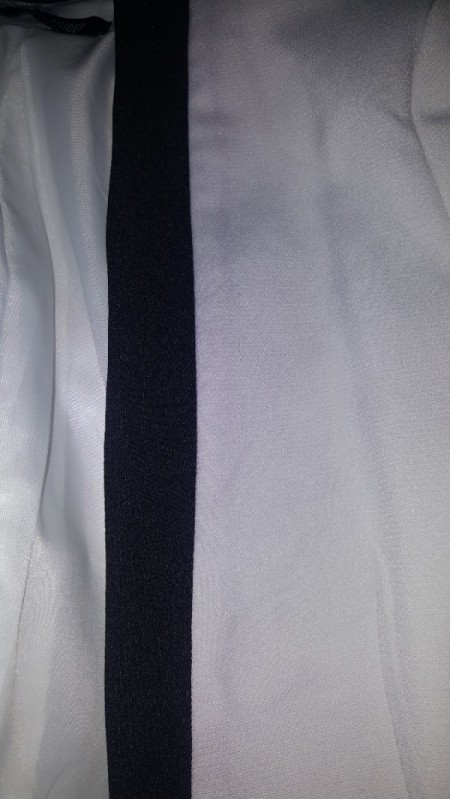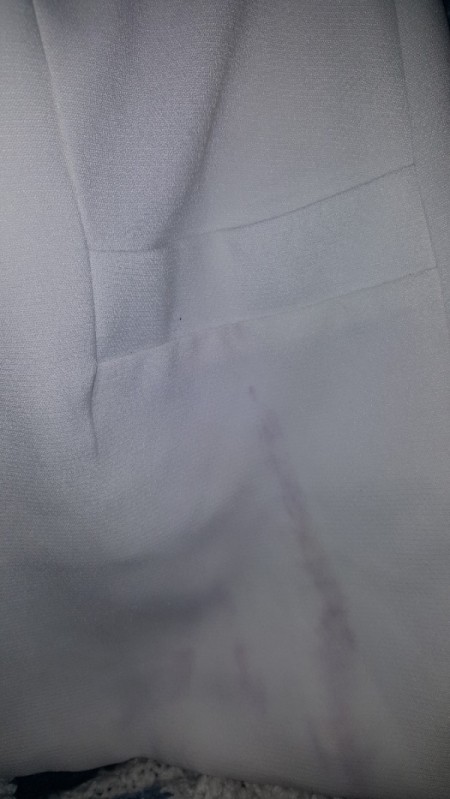 I have a white jacket with black trimmings. It's my absolute favorite!
The outer shell is:
70% viscose, 26% polyester, 4% elastene lining.
Inner:
94% viscose, 6% elastane.
I have hand washed it before and it has been fine although I accidentally used hotwater this time and it has come out yellow. It is curently soaking in cold water. Please does anyone know if this is fixable or have I ruined it? I can't find any information for cleaning tips anywhere!
January 24, 2016
0

found this helpful
try dying it white - use your washing machine and a Ritz or Dylon dye solution (liquid dye would be best rather than the powder).
Good luck - no harm in trying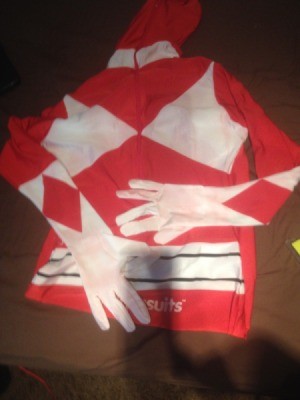 I recently brought a red and white morph suit and the white areas have turned slightly red/pink. Is there any way I can remove the red/pink from the white areas completely? Please respond as soon as possible as I need to use the morph suit for Friday.
By Matt
October 30, 2014
0

found this helpful
If you rub a sliced open lemon on it, it will draw the pink coloring out.
November 22, 2014
0

found this helpful
My little girl had a Santa Suit outfit that was dark red with the little fuzzy white collar. The red ran onto the white. I took a bottle of lemon juice out of the fridge, saturated a cotton ball and began to go over the collar with the cotton ball. I didn't saturate the collar but it was very damp.
I noticed that some of the red came off onto the cotton ball but most did not. I let it sit for about 5 minutes and got some no-name brand Oxyclean powder and mixed it in some water. With an old toothbrush, I scrubbed the collar with the Oxyclean solution and the collar was saturated when I was through. I noticed the red on the collar had turned brown.
I then put it in the washer with a color catcher and regular old Tide. I did cold water for an extra long normal cycle. It took all the red stain out of the collar without doing any damage to the rest of the top.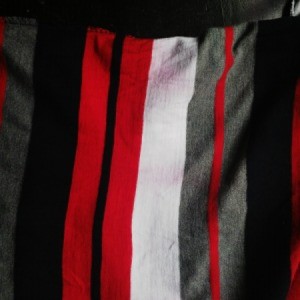 I've got a multi coloured shirt with the following colours; white, red, grey, and dark blue. After washing the shirt, the red and blue colours bled into the white and now my shirt is ruined. Please I need your help.
By Jesse
March 1, 2015
0

found this helpful
Try rewashing it again this time putting salt in ur water. It will stop the colors from running, and hopefully take out the stains.
I washed a white piece of clothing with red thread embroidery and all the red bled onto the white, so now it is a shade of pink. Another piece of clothing that I washed had a maroon lace, the clothing itself is a self-print light beige, and the maroon lace bled onto the shirt. So now there are light maroonish color stains below the lace. (I washed both clothes separately).
I wanted to know will the boiling water and bleach method work on these shirts or will it completely ruin my clothes? Any other suggestions?
By XYZ
May 7, 2011
0

found this helpful
My mother-in-law told me about soaking clothes in salt water, I have also heard about vinegar water, but never had any success with either one. Actually what I was told was that the soaking kept the clothes from fading, not from colors running into each other.
May 8, 2011
0

found this helpful
Try washing the items by themselves with 2 or 3 Shout Color Catcher Sheets, available in the laundry aisle at the supermarket. This product has saved several garments for me.
Help! I made my daughter's pink and white uniform tie-dye on the white. She has 2 tournaments this weekend. It cost $200 and no way can I buy one as it can take weeks. What can I do?
By Esther W.
October 30, 2014
0

found this helpful
Rit dye used to make a product called color removal, that may work.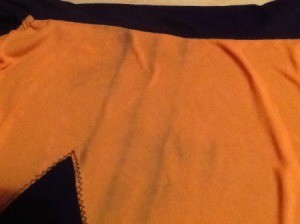 How do I get navy colour out of outfit that has run into a yellow part of the outfit? Please help; it's my daughter's cheer dance outfit. Thanx.
By Karen
December 23, 2013
0

found this helpful
Color safe bleach.
When I soaked my new white and black striped dress in cold water using Surf xcel some part of the whitish part was covered with the black colour of the dress itself. How do I clean it now? It's new and my fav dress. Pleass help me as soon as possible.
Read More...
Related
© 1997-2016 by Cumuli, Inc. All Rights Reserved. Published by
ThriftyFun
.
Page
generated on September 26, 2016 at 5:26:17 AM on 10.0.1.17 in 4 seconds. Use of this web site constitutes acceptance of ThriftyFun's
Disclaimer
and
Privacy Policy
. If you have any problems or suggestions feel free to
Contact Us
.