I have a Fox Terrier, her name is Belle and she is two years old. She has this habit of often peeing on her bed. She is also shedding a lot. I have tried everything, but can't find any solution. And as for her shedding problems, the vet told me that it's normal for her to shed like this. Her potty training is finished, but as soon as I replace her bed sheets, she has to pee on it. Because of this I had to put her outside. I built her a nice little house of course! Her bed sheets and bed don't last a month. Please can someone help, because I really love my little girl.
Thanks.
June 22, 2016
0

found this helpful
I assume you have a smooth fox terrier. They do shed more than wire hairs, but no dog should shed constantly. Try adding omega 3 oils to the diet or buying the high omega 3 food. Regular grooming with a brush like slicker brush might reduce it.
Fox terriers are active dogs. They require a lot of exercise, more than most dogs. The peeing might be related to this, if built up frustration is an issue. Walk your terrier a total of an hour per day. She will probably also require playtime daily.
How was she house trained? Is she crate trained? Did she ever train to pee pads? You may have to re-train and do crate training. Don't use pee pads at all.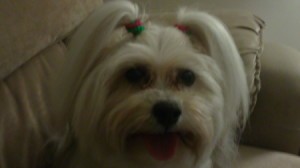 My Shih-Tzu has always peed in my other dog's bed. She also pees on my daughter's dog's bed and her own bed, and then sleeps on it. I have not ever caught her and now she's 7 yrs old
At night or when I'm not home, I do not let her roam anymore. She gets blocked in the bathroom with a baby gate, with food and water (which she never touches at night, but it makes me feel better that it's there if she wanted it ). I have a big towel folded on the floor then her dog bed on that and another towel on the bed. Every single night she pees on everything and then sleeps on it. I have even given her nothing to sleep on, and she doesn't pee at night, but will pee on my other dog's bed sometime throughout the day, as soon as she gets an opportunity.
She has peed on my bed in the past, now I keep my door shut so she can't go in there. I'm just so tired of my place smelling like dog urine *Sigh*
By Cynthia
September 13, 2015
0

found this helpful
I have a french bulldog that does exactly the same. I'm his 3rd owner and he has abandonment issues, as well as abuse history. He won't pee if he sleeps with me but if he is alone he will pee on anything he lays on to sleep.
January 5, 2016
0

found this helpful
Sorry people, but I don't believe this is a physical illness issue. My cocker does the same thing. If it were an illness then he'd do it even if there weren't a towel or something else to pee on. But seems neither Isabels dog, or mine pee when nothing is there. Wish I could give you an answer though cause I'm in the same boat.
I have recently adopted a 5 month old Staghound x Lab puppy. He is very nervy and is not house trained, but he seems to wee wherever he feels most comfortable. This is in places like under the table or on his own bed! I will take him out for walks and then we come home and he pees straight away, but it's always inside! At night though he only pees on his bed, not anywhere else. I don't know how to make him stop without making him not like his bed!
I have a 8 year old Pit Bull. She has never had a peepee problem before, but now she keeps wetting her own beds (3 of them in different parts of the house). She has a doggie door and can go out anytime she wants. She even does it while we're home. We had a 2 lb. Chihuahua that was the queen bee, who passed away 2 months ago. Could this be affecting Isabella, and why so long after Mia's passing? What can I do for her?
By Terryann
July 18, 2011
0

found this helpful
Best Answer
If the two dogs were close that well could be the problem...but first be sure to take you dog to your vet to get her checked out for possible medical problems. If you dog gets an all clear from the vet, then there are things you can do to help your pet past her grieving.
August 19, 2011
0

found this helpful
Our 9 year old English bulldog started wetting his bed also. In fact, he would do it right in front of me! I had bought him a new bed and that was what he was wetting on. I talked to our vet, and he said to get rid of the new bed. I did, and the problem was solved. Apparently, he was trying to tell me he wanted his old bed back. This may not be your problem, but talking with your vet might add some insight.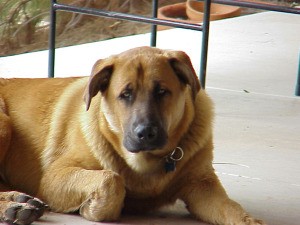 My dog "Hoss" has started peeing where he is sleeping in the house at night recently. He has never done this before. He is only 7 years old, a German Shepherd/Lab mix. He's a big boy, about 140 pounds and is having a little difficulty getting up in the mornings. Maybe he has a UTI or needs Proin? I can't even imagine him being "put down" or even sleeping outside; he's one of my best friends. He also really stinks, maybe it's from his peeing on himself?
By Ray M from Wrightwood, CA
July 18, 2011
0

found this helpful
Best Answer
Have your vet test his urine for a urinary tract infection, like you mentioned in your post. That is a likely source of the smelly urine. My senior doxie gets them occasionally and I can tell when it's time for a urine test by her smelly urine. Ick. Easy to treat with pills. Good luck with Hoss! He looks like a sweet boy.
July 19, 2011
0

found this helpful
I just thought of something strange. Since Hoss is a bit overweight, I have been giving him a dry dog food that is specifically for older dogs and a can of Alpo premium (to make it taste good). This has been his meal for quite a while. A couple of weeks ago I thought he isn't losing any weight so I replaced the canned Alpo with some canned older, overweight dog specific stuff. That's when he started wetting his sleep spot. He also wasn't finishing his food, something he has rarely done, ever! I have since switched his food back to the canned Alpo and the dry kibble and he has not wet in the house since, weird.
Could the food change have triggered his peeing at night? I'll have to look at home tonight and report back on the brand names of the food.the new canned stuff even looked nasty to me.
My dog wets herself all the time day or night asleep or awake. She is always drinking water. It's driving me mad. I'm changing her bed 2 to 3 times a day. She's 4 years old. I love her dearly, but feel I just can not keep her if this continues. I need help.
By Lorraine from London
February 21, 2016
0

found this helpful
My dog has the same issue
June 24, 2016
0

found this helpful
Have your vet check for diabetes. He doesn't pee as much as he did before insulin. But still pees in his bed from time to time even though he has pee pads an we are always there to let him out during day. Ten year old chihuahua