It is a good idea to stock up when eggs are on sale and freeze them for later use. This is a guide about freezing eggs.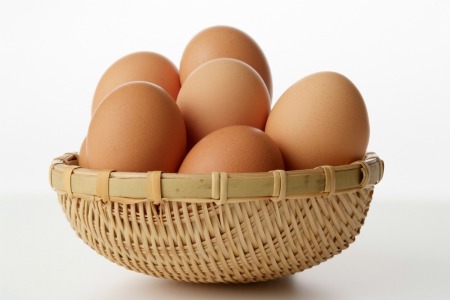 By coville123 326 89
You can freeze eggs by cracking them open and mixing them well. Then just put the mixed eggs in ice trays and freeze. Two cubes is equal to one egg. Then just take them out as you need them.
By Bobbie 166 11
Until a good friend shared this tip with me, I did not know that fresh eggs can be whisked together and frozen for up to six months. I have been doing this for over a year now.
I buy large eggs when they are on sale in the 18 pack cartons. I keep out about six for use in the fridge and then whisk together whites and yolks of the remaining 12 eggs until just combined.
I then measure them into my ice ice-cube trays, using 3 Tbsp. of the mixture per segment (3 Tbsp. is equivalent to 1 large egg).
Freeze until solid, then transfer cubes to a freezer bag for up to 6 months. Don't forget to date the freezer bag. When ready to use take out one or more and thaw in the refrigerator.
By Bobbie G from Rockwall, TX
When you return home with fresh eggs from the market, whip up a couple and pour them into a small ziplock freezer bag or freezer proof container and store them in the freezer on reserve for a just-in-case emergency like this:

Has this ever happened to you? You're baking a cake or cooking a dish that calls for eggs. You go to the fridge to grab a few eggs only to find that you are out of them. This has happened to me a few times and sometimes I either forgot to buy eggs when at the market, or cannot get to a market at the time. To safeguard myself from this I came up with this idea and it has been a safety net for me until I can get to the market. I have not kept them in the freezer for longer than 2 months at a time as I didn't want them to go to waste, but doing this has worked for me and I wanted to share this tip with all of you.

Source: Extra note: I thaw the eggs by sitting the container or ziplock bag in a container of tepid water and they cook/bake well and taste as if they have never been frozen at all.

By sbb1 from Umm al Quain, UAE
My refrigerator got turned up too high and some of my eggs got froze. It is safe to still use these after they thaw, or should i throw them out. I mainly use to fry or make omelets. Thank you for the advice.

jmz2005 from Illinois
---
Most Recent Answer
By guest (Guest Post) Flag
July 6, 2006
Eggs frozen in the shell in the frig work well. Leave them in their frozen state until ready to use. Set in a bowl of lukewarm water for a few minutes before using. Have used these often with no problems.
---
By Bonnie 1
Can you freeze fresh eggs in the shell?
By Bonnie from Nevada, IA
---
Most Recent Answer
December 5, 2011
I have frozen them for years so that we had enough eggs to get through winter. (Chickens that are not artificially heated/lit do not lay in the winter but can lay for many years beyond chickens that are not given a 'break' from laying.) They were all farm fresh though... so they were not sitting around on grocery store shelves or anything.
We did only use them for hard boiled, scrambled or baking though.
---
I know that egg whites can be frozen for later use (an ice tray works great) and they will beat up great for meringues. Egg Beaters do not beat or fluff up because of the pasteurization process. Does anyone know if you can do the same with egg yolks?
By Sandy from Richmond, VA
---
Most Recent Answer
April 9, 2010
Egg yolks frozen alone require special prep. To help retard the gelation that will make your yolks almost impossible to use you will need to add salt or sugar. Add 1/8 tsp salt or 1 1/2 tsp sugar to four beaten egg yolks. Be sure to mark on your container whether they are for cooking (salt) or baking (sugar)
If you just want to freeze the whole egg, take them out of the shell, beat well and freeze. Three (3) tablespoons of thawed egg equals one whole egg. I got this information from the NC Egg Board and have been freezing eggs for several years. Chickens don't lay as well in the winter!
---
I have ended up with 5 dozen hardboiled, shelled eggs. Can I freeze them? Please help.
By Adele
Eggs, (blended) can be kept in the freezer in an airtight container for up to four months. Here are some simple tips to help you freeze your eggs properly.

In the case of whole eggs, beat lightly before freezing. To freeze egg yolks, beat in either 1/8 teaspoon (0.5 mL) salt or 1 and a pinch teaspoons (7 mL) of sugar or corn syrup per cup (50 mL) egg yolks (about 4 yolks). For egg whites, you can freeze them as they are. For faster thawing and easier measuring, you can freeze eggs (after having followed the proper tips listed above) in an ice cube tray and then transfer them to a freezer container. It is important to note that although eggs can be frozen, they should not be frozen in their shell.

By Cinnamon from Williams Lake, BC